In compliance with updated FTC Guides Governing Endorsements, Testimonials, etc., please be advised that the Web site of author, Deborah M. Piccurelli (www.deborahmpiccurelli.com), does not ā€œendorseā€ or provide ā€œtestimonialsā€ via its reviews. The reviews are synopses and critiques of books this reviewer has read. While the majority of the books I receive are provided free of charge by various publishers and authors, some books reviewed are also procured by self-purchase. The reviewer does not typically review books unless a good or better report can be given, as indicated by the heading on the review page of the site.
Click here to read my review of Redeeming Liberty
RREVIEW OF
THE RHYTHM OF SECRETS
BY PATTI LACY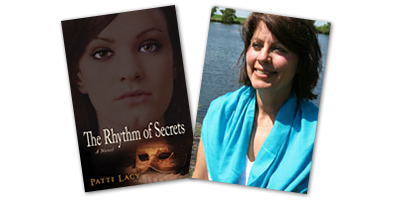 Anyone who regularly visits this site knows I am a fan of Patti Lacy's books. I've read each of her others, and, in my opinion, this is her best work, to date.
In The Rhythm of Secrets, Sheila Franklin has masqueraded as the precocious daughter of avant-garde parents in colorful 1940s New Orleans, a teen desperate for love and acceptance, and an unwed mother sent North with her shame.
After marrying Edward, Sheila artfully masks her secrets, allowing Edward to gain prominence as a conservative pastor. But a phone call from a disillusioned Vietnam veteran destroys the fragile façade she's built. Now, she faces an impossible choice: save her son and his beloved, or imperil Edward's ambitions.
I really liked everything about this book, starting with the cover. I was completely intrigued by it. Doubly so for the plot. Talk about secrets—in this story, there are many, and more than I've ever encountered in any book I've read to date. Patti Lacy knows how to yank our chords, as she slowly reveals each secret of these very unique characters when we least expect it. You'll be doing yourself a favor by reading this book.