In compliance with updated FTC Guides Governing Endorsements, Testimonials, etc., please be advised that the Web site of author, Deborah M. Piccurelli (www.deborahmpiccurelli.com), does not ā€œendorseā€ or provide ā€œtestimonialsā€ via its reviews. The reviews are synopses and critiques of books this reviewer has read. While the majority of the books I receive are provided free of charge by various publishers and authors, some books reviewed are also procured by self-purchase. The reviewer does not typically review books unless a good or better report can be given, as indicated by the heading on the review page of the site.
Click here to read my review of The Rhythm of Secrets
REVIEW OF
REDEEMING LIBERTY
BY DIANE & DAVID MUNSON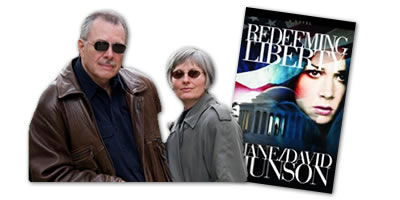 In Redeeming Liberty, Federal Parole officer, Dawn Ahern witnesses the kidnapping of her new friend, Liberty, while on a missions trip to Sudan. Liberty is the chosen bride of Wally, a former "lost boy," who is the quasi-adopted son of Dawn's love interest, Griff Topping. When it comes to light that the kidnappers are African slave traders, Dawn and Griff take on the dangerous quest of redeeming the young woman for Wally (redeeming is a way of freeing the slaves by buying them back for about $40.00). When things go terribly wrong, Griff asks CIA agent, Bo Rider for help. Bo launches a clandestine rescue effort for Liberty, and discovers a deadly Iranian secret that threatens the lives of millions of Americans and Israelis.
Diane and David Munson have a great thing going here, with their insider experience lending authenticity to the nuances and technicalities of government agencies. I really felt like I knew what was going on, even though I know nothing about the inner workings of such government agencies. The characters, some of which are recurring in previous books, compliment each other. I was immediately drawn in by them. As for the setting, the Munsons weave description in such a way that the reader gets a real sense of what it's like to be in D.C., Sudan, Germany, or basically any location, American or foreign.
Overall, I must say that Redeeming Liberty is an enjoyable read. You won't want to miss reading, not only this book, but other previous books written by Diane and David Munson.