REVIEW
OF
NEW LIFE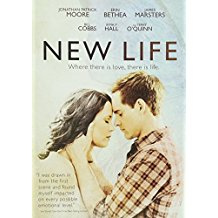 I'm not sure this movie was shown in theaters, but when I saw it advertised in DVD, I snapped it up.
Benjamin and Ava Mortin's childhood friendship grows into a deep, everlasting love. Life is perfect, especially after marriage. But when life takes an unexpected turn, all of their dreams are turned upside down and they must learn to do whatever it takes to make the most of it.
New Life stars Jonathan Patrick Moore (Christian Mingle), Erin Bethea (Fireproof) and James Marsters (Buffy the Vampire Slayer). You've probably heard of all of the above.
I did enjoy this movie, but I have to say that it's probably not for everyone. The rating is PG13 for thematic content, but it is family approved by the Dove Foundation for ages 18+. I do recommend it, but check out the website at www.newlifethemovie.com and decide for yourself. If you watch it, be sure to have a box of tissues on hand.