REVIEW
OF
THE CASE FOR CHRIST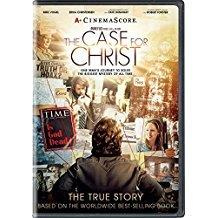 The DVD for this movie was released in August, and I have since watched it four times with different people. It's the true story of how Lee Strobel, as an investigative newspaper reporter, chased down the biggest story of his life.
Having been atheists since before their marriage, Lee's wife suddenly converts to Christianity. Greatly disturbed by this, Lee embarks on a mission to prove that Jesus Christ's death and resurrection was a lie. He goes to great lengths, traveling all over the country and contacting Bible experts as far away as Jerusalem. What he finds is astonishing.
The Case for Christ stars Mike Vogel (as Strobel), Erika Christenson, Faye Dunaway and Robert Forster. This is one Christian movie you can sink your teeth into, and can be used in helping bring the lost to Christ. I highly recommend it.