In compliance with updated FTC Guides Governing Endorsements, Testimonials, etc., please be advised that the Web site of author, Deborah M. Piccurelli (www.deborahmpiccurelli.com), does not ā€œendorseā€ or provide ā€œtestimonialsā€ via its reviews. The reviews are synopses and critiques of books this reviewer has read. While the majority of the books I receive are provided free of charge by various publishers and authors, some books reviewed are also procured by self-purchase. The reviewer does not typically review books unless a good or better report can be given, as indicated by the heading on the review page of the site.
REVIEW OF
FREED TO FORGIVE
MARISOL'S STORY
By Julie B. Cosgrove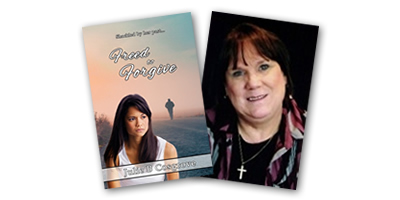 This novel is the sequel to Julie B Cosgrove's two prior books, Hush in the Storm and Legitimate Lies. I did not have the opportunity to read either of those books, but I had no problem understanding the plot.
The subject of the novel is human trafficking, therefore, not a light read. To know what happens in this book is an authentic description of the horrors these young victims endure is heart wrenching and haunting. At times, I didn't know how much more I could stand. Yet, I could not stop reading.
Marisol Hernandez had been sexually abused by her dad and brothers, then prostituted out to their friends at the tender age of twelve. Finally, she runs away from her home in Mexico in hopes of making it to the States, where there is freedom, and she hears is a better place to live.
As she travels alone on foot, she is picked up by two men who promise to take her to America, but end up using her for themselves before selling her to sex traffickers. From there, the treatment she suffers by the hands of almost every man she encounters leads to her mistrust, rage and unforgiveness.
Can Marisol find hope in a God who she thought had abandoned her? Can she forgive all who mistreated her in order to free herself from the bondage of shame and guilt feelings? And will she ever be able to love and trust a man again?
Human trafficking is a hard subject, but Julie B. Cosgrove does a fantastic job of handling it with taste and tactfulness. I must warn, though, that anyone with a weak stomach may not be able to stay with it, as the author does not sugar-coat any of the realistic incidents portrayed.
I recommend this book for those who would like more information about what goes on in the world of human trafficking and for anyone who likes reading the works of authors they can rely on for the truth, even through fiction.