REVIEW OF
THE SHEEP WALKER'S DAUGHTER
BY SYDNEY AVEY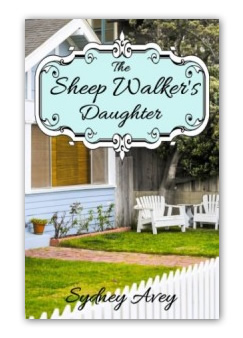 This was a lovely read, rich with detail in setting, time, and culture.
The Sheep Walker's Daughter takes place in the mid 1950s, and begins where the main character, Dolores Carter, is dealing with her mother's death. Dolores had moved in with her mother, Leora Moraga, to take care of her years before becoming a widow, while her husband served in the military. And now she is alone, except for her daughter, Valerie, who is off on her own, traveling and pursuing post-graduate studies.
Dolores and Leora had maintained a tension-filled relationship. There were things Leora would not tell her daughter concerning relatives. She never got to know her father, Alonso Moraga, a Basque Spaniard, nor was she told why he left his little family and returned to Spain. So many secrets.
As she gathers her mother's belongings, Dolores finds papers and articles that imply there is a past to her life she might want to revisit and become a part of. She begins to dig, and is satisfied with her findings. Little does she know that she doesn't have the whole story, and that Valerie already knows much more than she does, and has published the family story in a novel in Spain.
Along the way, Dolores makes some new friends and reacquaints herself with old ones. After four years of widowhood, she now has a love interest. Her life has changed in so many ways. She quits her job at the bank to return to what she loves best as a means of income: art.
This novel is very well-written. The way Avey strings her words together is, at times, pure poetry. Here is an example:
"His eyes catch the light and invite me in."
Some of her sentences are humorous:
"He uses his straw like an Electrolux to suck the last of his soda pop from the melting ice at the bottom of his glass."
Just a word of caution: Though this is a book with a religious theme, I want to alert those who are sensitive about what they read that there are a few, what I would call, mild curse words contained in the story.
Bottom line, if what I wrote above does not affect your reading, and if you like books about all kinds of relationships, wrought with secrets and family drama, you will love The Sheep Walker's Daughter.