In compliance with updated FTC Guides Governing Endorsements, Testimonials, etc., please be advised that the Web site of author, Deborah M. Piccurelli (www.deborahmpiccurelli.com), does not ā€œendorseā€ or provide ā€œtestimonialsā€ via its reviews. The reviews are synopses and critiques of books this reviewer has read. While the majority of the books I receive are provided free of charge by various publishers and authors, some books reviewed are also procured by self-purchase. The reviewer does not typically review books unless a good or better report can be given, as indicated by the heading on the review page of the site.
REVIEW OF
SECRETS AND LIES
BY JANET SKETCHLEY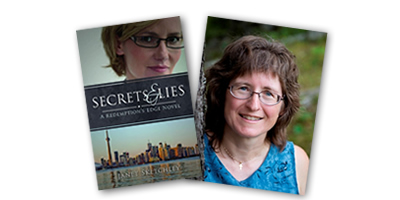 Secrets and Lies by Janet Sketchley is one of those unputdownable books. You know, the ones that keep you up late at night, turning the pages and promising yourself that as soon as you find a good place to stop, you'll close the book (or device) and get some sleep.
This is a story about a mom, Carol Daniels, who will stop at nothing to protect the only son she has left. After losing her husband to an auto accident, and then her younger son to a drug overdose, she is desperate not to lose Paul. But someone is threatening both her and her son, so they move far away from their hometown, hoping the stalkers won't find them.
With such a high anxiety level, Carol often has trouble sleeping, so in order to cope, when the nightmares hit, she'll bake a sweet treat in the middle of the night, or call the deejay at her favorite oldies radio station.
Joey Hill has become a rock of comfort for Carol, and has helped her through many sleepless nights. He is a Christian man with a past Carol would not like. After setting her up to have her car repaired by a friend, Joey makes sure to be there to meet her in person. They form a friendship, and he offers solace whenever she needs it.
But the enemy soon finds Carol, claiming she has something they want. They know everywhere she goes and everything she and her son do. They are constantly watching, and she and Paul have nowhere to hide. Who are they? What do they want?
What I like most about this book is that it really flowed smoothly. I found nothing that took me out of the story to figure out what the author was trying to say, that was off-track or interrupted the momentum. I just sailed along, allowing the story to take me with it.
Other elements that added to the excellency of this book were the author's style of stringing beautifully descriptive words and sentences together and her perfect pacing. All in all, this novel was a joy to read.
If you like romantic suspense with a punch, you'll enjoy Secrets and Lies.