In compliance with updated FTC Guides Governing Endorsements, Testimonials, etc., please be advised that the Web site of author, Deborah M. Piccurelli (www.deborahmpiccurelli.com), does not ā€œendorseā€ or provide ā€œtestimonialsā€ via its reviews. The reviews are synopses and critiques of books this reviewer has read. While the majority of the books I receive are provided free of charge by various publishers and authors, some books reviewed are also procured by self-purchase. The reviewer does not typically review books unless a good or better report can be given, as indicated by the heading on the review page of the site.
REVIEW OF
BEYOND I DO
BY JENNIFER SLATTERY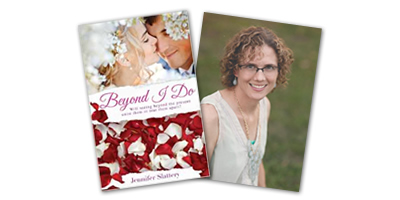 This novel is one of those delightful reads where the story flows and moves quickly, and you think you haven't been reading that long; but when you glance up at the clock, you discover you've been reading for hours. It's that enjoyable.
In Beyond I Do, Jennifer Slattery takes us to two extremes of society: the homeless on the streets, and the high life. But Ainsley Meadows falls somewhere in-between. Raised in a dysfunctional poor family, but engaged to a self-absorbed socialite psychiatrist, a hidden passion and a long-forgotten dream begin to surface. Her whole future is on the line, as well as her impending marriage. Can Ainsley learn to follow God with reckless abandon and realize that marriage goes way Beyond I do?
The book is very well written. The plot moves smoothly, the characters are fully developed, and Jennifer Slattery has given much attention to detail. Everything fits together seamlessly. Without giving too much away, one thing that stood out to me was the heart and emotion given the prominent characters toward those less fortunate. It caused me to ask myself how I would act in the same setting and circumstances. A good book always challenges the reader.
If you enjoy reading romances that touch on real-life issues, you will love reading Beyond I
Do.