In compliance with updated FTC Guides Governing Endorsements, Testimonials, etc., please be advised that the Web site of author, Deborah M. Piccurelli (www.deborahmpiccurelli.com), does not "endorse" or provide "testimonials" via its reviews. The reviews are synopses and critiques of books this reviewer has read. While the majority of the books I receive are provided free of charge by various publishers and authors, some books reviewed are also procured by self-purchase. The reviewer does not typically review books unless a good or better report can be given, as indicated by the heading on the review page of the site.
REVIEW OF
HUSH IN THE STORM
BY JULIE B. COSGROVE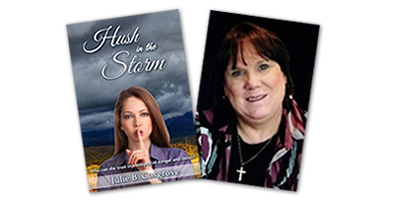 This is the first in a series of romantic suspense novels by Julie B. Cosgrove. I had the pleasure of reading the third installment previously, but am delighted to have been invited by the author to read this one, also. Even though I'm backtracking.
In Hush in the Storm, Jen, a recently widowed accountant still grieves over the death of her husband of five years. Her boring job is the only reason for her to get out of bed in the morning. One night, while working late, she is kidnapped by a co-worker, Tom, who says her late husband asked him to. Then he fakes her death.
Jen understands none of it. Tom keeps telling her that "they" are after her, and his job is to keep her safe from the people who killed her husband. She had thought he died in an accident, but it turns out he and Tom worked on a covert mission for a government agency. But that's all he would say.
Jen wonders if her marriage to Robert was a sham. Now, she doesn't know who to trust. Is Tom the one person she can count on? And who are "they?
As she turns back to a God she hadn't prayed to in a long time, her newly refreshed faith helps carry her through the storm. She only hopes she can count on Him to guide and protect her.
I thoroughly enjoyed this fast-paced novel, and didn't want to put it down. The plot, setting, dialogue and characterization are so authentic, I wondered how the author knew all the little details.
If you like stories that take you on an emotional roller coaster ride, you'll love this book!