In compliance with updated FTC Guides Governing Endorsements, Testimonials, etc., please be advised that the Web site of author, Deborah M. Piccurelli (www.deborahmpiccurelli.com), does not ā€œendorseā€ or provide ā€œtestimonialsā€ via its reviews. The reviews are synopses and critiques of books this reviewer has read. While the majority of the books I receive are provided free of charge by various publishers and authors, some books reviewed are also procured by self-purchase. The reviewer does not typically review books unless a good or better report can be given, as indicated by the heading on the review page of the site.
REVIEW OF
THE TURNING
BY DAVIS BUNN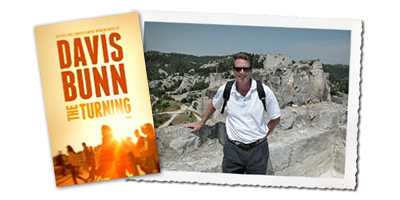 A letter from the publisher accompanied this book. It stated that I was reviewing a unique fictional title that has a supplementary 40 day online devotional. That piece of information alone was enough to pique this reader's interest. And then there is the story itself.
Five random people believe they have heard a command from God, and end up coming together in an unexpected time and place. They know they are supposed to do something big, but have no idea what that would be. Until they see a video put out by one of the most powerful entertainment companies in North America. This video sends a completely contrary message to the hope normally offered by the body of Christ. So now they know why God has brought them together and their mission. Can they stand against this powerful conglomerate and get the job done?
Since Davis Bunn is well-known in the world of Christian fiction and a Christy Award winner, it comes as no surprise how wonderfully written this novel is. You will be captivated by the suspenseful plot from page one. The previously-mentioned online devotional is a pro-active approach for the reader. Very unique indeed.
If you like suspense, uniqueness, or any of Davis Bunn's works, you will enjoy The Turning.