In compliance with updated FTC Guides Governing Endorsements, Testimonials, etc., please be advised that the Web site of author, Deborah M. Piccurelli (www.deborahmpiccurelli.com), does not "endorse" or provide "testimonials" via its reviews. The reviews are synopses and critiques of books this reviewer has read. While the majority of the books I receive are provided free of charge by various publishers and authors, some books reviewed are also procured by self-purchase. The reviewer does not typically review books unless a good or better report can be given, as indicated by the heading on the review page of the site.
REVIEW OF
EVERYTHING ABOUT YOU
BY LISA J. LICKEL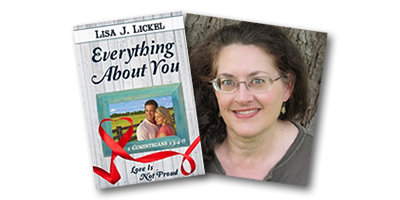 I thoroughly enjoyed this fish-out-of-water story. Lisa Lickel brings life to what goes on behind the scenes of the publicity aspect in making Hollywood movies. The details contained in this novel makes one wonder if Ms. Lickel had worked in the entertainment industry herself. I learned many things I never knew before about making movies.
Everything About You is book #5 in the Love Is . . . series published by Prism Publishing Group, themed around 1 Corinthian 13:4 "...love...it is not proud..."
As Company Promotions Manager, Shelley Colter (the proud one) is presented with the task of turning a humble rancher into a Hollywood Hunk in less than a week. She needs to get the job done and prove she's the best in her business to help reach her goal of owning her own public relations firm. She knows it will be tough, since Daniel Winston, the man hired to replace the lead who'd been fired, is not a real actor. He'd only acted in high school. But she puts her all into it.
The thing is, her reluctant attraction to him keeps getting in the way, and she will not let a romantic fling ruin her dreams. But Danny, whose name had been changed to Winston Daniels for the film, would not just be a fling. He is different than most men she'd come in contact with in this business. He has integrity and will not compromise his morals. And he knows God. Someone she'd never come to know herself.
Danny isn't really into the fame thing, but the pay for this role would be more than enough to start his fish farm and work on contracts to supply all the markets and restaurants.
Will both be able to realize their dreams without getting in each other's' way? Or can they come together and work toward one ultimate goal?
This is a sweet, very cute story. It reminds me of one of those Hallmark movies, which I always enjoy watching. Ms. Lickel's character development is spot-on, and I can't think of one thing I can complain about. Just a delight to read all the way around. I highly recommend it!