In compliance with updated FTC Guides Governing Endorsements, Testimonials, etc., please be advised that the Web site of author, Deborah M. Piccurelli (www.deborahmpiccurelli.com), does not ā€œendorseā€ or provide ā€œtestimonialsā€ via its reviews. The reviews are synopses and critiques of books this reviewer has read. While the majority of the books I receive are provided free of charge by various publishers and authors, some books reviewed are also procured by self-purchase. The reviewer does not typically review books unless a good or better report can be given, as indicated by the heading on the review page of the site.
REVIEW OF
7 WEALTH BUILDING SECRETS
BY DE'ANDRE SALTER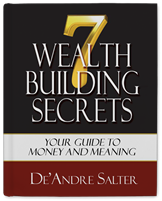 If you are having financial problems—and even if you aren't, this is a great book to have around. 7 Wealth Building Secrets offers practical advice on ways to build wealth, not high-to-attain to principles. In other words, anyone can do it. The author explains we need to figure out what our talents and skills are worth, and he gives ideas on how to find what you can do to create a steam of income.
One thing I really like about this book is that it blows apart the idea many Christians have that Jesus was poor and that we should be too.
I believe many people, Christian, or not, and whether or not they are financially strapped, would find this book useful.