In compliance with updated FTC Guides Governing Endorsements, Testimonials, etc., please be advised that the Web site of author, Deborah M. Piccurelli (www.deborahmpiccurelli.com), does not "endorse" or provide "testimonials" via its reviews. The reviews are synopses and critiques of books this reviewer has read. While the majority of the books I receive are provided free of charge by various publishers and authors, some books reviewed are also procured by self-purchase. The reviewer does not typically review books unless a good or better report can be given, as indicated by the heading on the review page of the site.
REVIEW OF
DO WHAT JESUS DID
BY ROBBY DAWKINS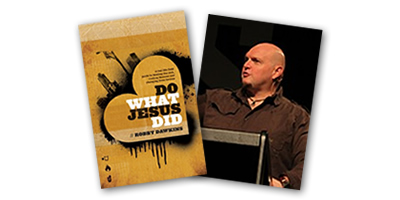 If you are the type of person who wants to be like the first church and operate in the same miracles that Jesus did, this is a book that will point the way. Below is the back-cover blurb:
Don't get stuck at asking, "What would Jesus Do?" Be equipped to do it.
Chicagoland pastor Robby Dawkins hadn't moved past that question either—until he discovered that the miraculous things Jesus did during His lifetime are not just history: They're today's reality. When he started living the way Jesus did, he started living life, as he says, straight out of a superhero movie.
So can you. In this dangerous book, you'll learn simple, practical ways to take hold of your God-given "power tools"—prophetic ministry, healing, ministering the presence of God and deliverance from demonic power. And through amazing but true stories from the front lines of ministry, you'll see what happens when ordinary Christians harness God's superpower to bring His Kingdom to earth.
It's time to beat the sickness, suffering and despair of the impossible. Time to embrace a powerful faith. It's time to do what Jesus did.
I found Do What Jesus Did to be extremely detailed in explaining how the author went about executing miraculous works in his ministry. Detailed, but not complicated. I do always want to know the "how" of something. Also, some of the true accounts Dawkins relates of various situations he dealt with were both moving and inspiring. They made me want to get right out there and spread the good news with signs and wonders following!
I highly recommend this impactful, compelling book to anyone who wants to "do the works that Jesus did, and greater works," as He tells us we will do in Scripture.