In compliance with updated FTC Guides Governing Endorsements, Testimonials, etc., please be advised that the Web site of author, Deborah M. Piccurelli (www.deborahmpiccurelli.com), does not "endorse" or provide "testimonials" via its reviews. The reviews are synopses and critiques of books this reviewer has read. While the majority of the books I receive are provided free of charge by various publishers and authors, some books reviewed are also procured by self-purchase. The reviewer does not typically review books unless a good or better report can be given, as indicated by the heading on the review page of the site.
REVIEW OF
SPOKEN FROM THE HEART:
WALKING IN FREEDOM
BY CHERI SWALWELL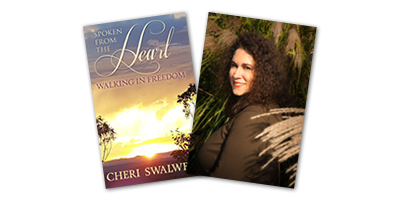 This book spoke to me on many levels. Fear was at the very top. Cheri did a terrific job of explaining how she overcame fear and a food addiction with the help of the Lord. I also enjoyed each time she illustrated how our Father spoke to her through a sermon, radio show, book, or straight to her heart. This author has given us all something to think about applying to our own lives. I highly recommend this book!