In compliance with updated FTC Guides Governing Endorsements, Testimonials, etc., please be advised that the Web site of author, Deborah M. Piccurelli (www.deborahmpiccurelli.com), does not ā€œendorseā€ or provide ā€œtestimonialsā€ via its reviews. The reviews are synopses and critiques of books this reviewer has read. While the majority of the books I receive are provided free of charge by various publishers and authors, some books reviewed are also procured by self-purchase. The reviewer does not typically review books unless a good or better report can be given, as indicated by the heading on the review page of the site.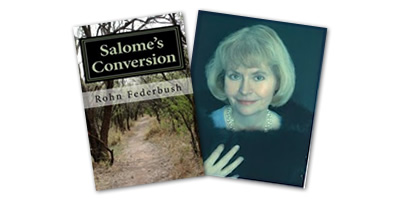 REVIEW OF
SALOME'S CONVERSION
BY ROHN FEDERBUSH
This is one of the most unique formats I've seen in a book, to date. Because Jesus happens to be a character in the book, Ms. Federbush uses red font whenever His name is mentioned, and also for all of His dialogue, just like in the Bible.
I have always liked any story that involves Salome, and this one is no different. As in the Bible, it starts with Salome's dance for King Herod on the night John the Baptist is beheaded, then proceeds through the three years she follows Jesus in His ministry, until His crucifixion and resurrection. Yes, we know what happens through much of the book, but Ms. Federbush has added the details to Salome's life in a credible way that brings her to life for the reader, as she never has been before. Federbush gives Salome good reasons for the things she does, and appropriate consequences follow. Her thought processes and emotions fit very well within the circumstances already set forth scripturally. The same holds true for Decius, the Roman soldier who rescues her, and becomes her love interest.
There is one thing that jumped out at me throughout my reading: Mary Magdalene was depicted as the Mary who was Lazarus and Martha's sister. Maybe I'm the only one, or maybe I haven't connected the dots like everyone else, but I never thought of Mary Magdalene in this way before. It does, for the sake of the story, tie everything together neatly. That element is easily overlooked, allowing enjoyment of the rest of the story.
This book provides a new and entertaining way to learn from the teachings of Jesus. If you like to read Biblical fiction, then you will enjoy Salome's Conversion.
Reviewed by: Deborah M. Piccurelli
Author, Hush, Little Baby