In compliance with updated FTC Guides Governing Endorsements, Testimonials, etc., please be advised that the Web site of author, Deborah M. Piccurelli (www.deborahmpiccurelli.com), does not ā€œendorseā€ or provide ā€œtestimonialsā€ via its reviews. The reviews are synopses and critiques of books this reviewer has read. While the majority of the books I receive are provided free of charge by various publishers and authors, some books reviewed are also procured by self-purchase. The reviewer does not typically review books unless a good or better report can be given, as indicated by the heading on the review page of the site.
REVIEW OF
ETERNITY INVADING TIME
BY RENNY McLEAN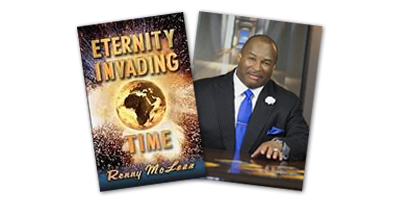 I had never thought about the things of God in terms of Quantum Physics before. What an eye-opener this book was for me. If you are interested in how science and the Bible line up, this would be a good book to pick up.
Dr. Renny McLean was born and raised in London, possessing an unusual heritage, Caribbean and Jewish descent. He now resides in Dallas, Texas, and with his wife, co-founded Global Glory Ministry. Dr. McLean presents the Gospel in the "now" with the present workings of the Holy Spirit.
Here is part of the back cover blurb of his book:
In an ever changing world where the darkness prides itself by proclaiming they have psychic insights for every person, the church has become anemic, without as much as a sign, a miracle or a wonder.
Where do we go from here?
Faith is at a level the church has never known before. It is a faith being seen in the "here and now." We must understand what Jesus meant when He said "I only do what I hear and what I see My Father do and say."
You are about to enter that eternal zone, where time is losing its grip on the earth. Eternity is Invading Time.
In his book, the author claims he has been taken up to heaven in the spirit several times. Miracles are a regular event during his meetings. He professes to always live in the glory, because that's where we see the move of God. He speaks of Eternity getting closer to the earth, as it has been discovered that the speed of light is slowing down. There are many other revelations in this book, but I don't want to spoil any of it.
If you like to seek out everything and anything having to do with the Kingdom of Heaven, this book is a good start. You won't be disappointed.