In compliance with updated FTC Guides Governing Endorsements, Testimonials, etc., please be advised that the Web site of author, Deborah M. Piccurelli (www.deborahmpiccurelli.com), does not ā€œendorseā€ or provide ā€œtestimonialsā€ via its reviews. The reviews are synopses and critiques of books this reviewer has read. While the majority of the books I receive are provided free of charge by various publishers and authors, some books reviewed are also procured by self-purchase. The reviewer does not typically review books unless a good or better report can be given, as indicated by the heading on the review page of the site.
REVIEW OF
MYSTERY ON THE BAYOU
BY LINDA WEAVER CLARKE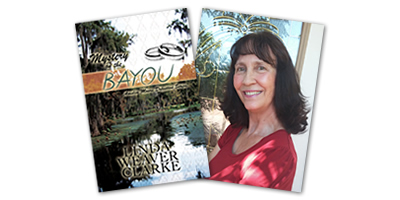 Mystery on the Bayou is Linda Weaver Clarke's 6th book in the Amelia Moore Detective Series. I have not had the opportunity to read books 1 through 5 and I'm sorry I didn't. Though not a Christian novel, the story is clean, so anyone can read it.
As the book opens, we learn that Detective Amelia Moore Bonito is enjoying her honeymoon with new husband and business partner, Rick. But Amelia runs into a tall woman on the beach named Millie, and takes on the case of finding this woman's son whom she gave up for adoption sixteen years before. She has just found out that she has a genetic disorder called Marfan's Syndrome which affects connective tissue and results in optical and cardiovascular problems, among other things. She wants Amelia and Rick to find out who adopted her son so she can warn him, and also ask permission to meet him. She had tried on her own, but was unsuccessful.
So Amelia agrees to take on the case while on their honeymoon without first asking Rick. But he's game, so they dive into the case. When they do locate the boy, they discover another case needs to be solved, as he has gone missing and is suspected of murder.
I don't usually read mysteries, but if this is what they call a "cozy" mystery, then it has been correctly named. Mystery on the Bayou was a delightful read, and I certainly felt cozy with the characters and plot.
I would recommend this book to anyone who likes reading light detective stories, but try checking out the first five books in the series, also. I'm willing to bet they are just as good as this one was.