In compliance with updated FTC Guides Governing Endorsements, Testimonials, etc., please be advised that the Web site of author, Deborah M. Piccurelli (www.deborahmpiccurelli.com), does not ā€œendorseā€ or provide ā€œtestimonialsā€ via its reviews. The reviews are synopses and critiques of books this reviewer has read. While the majority of the books I receive are provided free of charge by various publishers and authors, some books reviewed are also procured by self-purchase. The reviewer does not typically review books unless a good or better report can be given, as indicated by the heading on the review page of the site.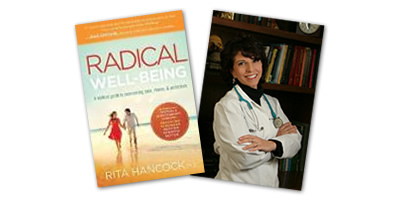 REVIEW OF
RADICAL WELL-BEING:
A BIBLICAL GUIDE TO OVERCOMING PAIN, ILLNESS, AND ADDICTIONS
BY RITA HANCOCK, M.D.
If you are going to buy one health book this year, I think it should be Radical Well-Being: a biblical guide to overcoming pain, illness, and addictions by Rita Hancock, M.D.
In Radical Well-Being, Dr. Hancock shows how the issues we harbor and keep tucked away in our memories from childhood directly affect our health and well-being as adults. She demonstrates that if we are feeling bad about ourselves or some situation in our lives, past or present, we may reach for false comforters, such as food, drugs, alcohol, work, shopping, etc. Some of these false comforters lead to weight gain, addictions, diseases, and so on. Sometimes, the way we see ourselves or having lived in bad circumstances can cause pain in our bodies.
Dr. Hancock is a pain management specialist who uses osteopathic-style manual medicine (OMM) in her practice. This means, instead of treating patients with addictive narcotic meds for pain, she uses a hands-on technique that helps patients bend, twist, and turn in order to unwind tension in their bodies and alleviate pain. But this is not all she treats. Radical Well-Being explains how we can be completely well, body, mind, spirit.
In this book, we have the privilege of meeting some of Dr. Hancock's patients through the years, and how she was able to help them with their specific conditions.
I can't say enough about this comprehensive health book. See for yourself how helpful it is, even if you think you don't need it. I don't have pain in my body, nor do I have a weight problem or addiction. Still, as I read, I was able to glean some great information that can help me with other, seemingly unrelated issues. I believe you will, too!