In compliance with updated FTC Guides Governing Endorsements, Testimonials, etc., please be advised that the Web site of author, Deborah M. Piccurelli (www.deborahmpiccurelli.com), does not ā€œendorseā€ or provide ā€œtestimonialsā€ via its reviews. The reviews are synopses and critiques of books this reviewer has read. While the majority of the books I receive are provided free of charge by various publishers and authors, some books reviewed are also procured by self-purchase. The reviewer does not typically review books unless a good or better report can be given, as indicated by the heading on the review page of the site.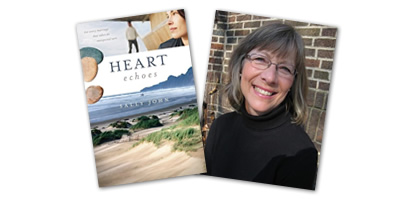 REVIEW OF
HEART ECHOES
BY SALLY JOHN
As with all of Sally John's books, this one is a stunner. Sally is such a veteran writer, that the story smoothly moves along so seamlessly, causing you to think you're living it instead of reading it.
In Heart Echoes Teal Morgan-Adams is living the perfect life with the perfect husband, and the perfect daughter. But then an earthquake strikes Los Angeles, where she lives, and brings with it disaster and change. As her daughter, Maiya, becomes rebellious, Teal and her husband, River, decide it might be best to remove her from a recent situation. As teal learns of some tragic news from her hometown, Cedar Pointe, Oregon, it provides a place for her to take Maiya. Without River. But Teal has avoided the town all of her adult life, because her darkest secrets are buried there. Secrets such as, the identity of Maiya's biological father. But lies are hidden there, too. Can her already strained marriage survive all that from a distance?
Notice the unique names of Sally's characters. That is one thing you can always count on in her books, along with her insight into the complexities of marriage, and stories of real-life her readers could be living today. I have never been disappointed in any of Sally's books (I've read every one), and neither will you.