In compliance with updated FTC Guides Governing Endorsements, Testimonials, etc., please be advised that the Web site of author, Deborah M. Piccurelli (www.deborahmpiccurelli.com), does not ā€œendorseā€ or provide ā€œtestimonialsā€ via its reviews. The reviews are synopses and critiques of books this reviewer has read. While the majority of the books I receive are provided free of charge by various publishers and authors, some books reviewed are also procured by self-purchase. The reviewer does not typically review books unless a good or better report can be given, as indicated by the heading on the review page of the site.
REVIEW OF
TIME TSUNAMI
BY DANELE ROTHARMEL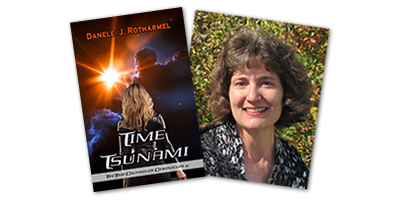 This is a really fun book to read. Danele Rotharmel has mastered all the elements of a book that makes you want to keep reading: Action, romance, humor, faith and a timely message.
Gil Montgomery needs to pass a field exam to become a professional time surfer at the Temporal Counseling Program where she has trained. TEMCO targets death-row offenders for counseling while they are children. Gil must travel twenty-four years into the past to counsel ten-year-old Danny Winston before he kills his abusive babysitter, Rick Olsen which leads to his eventual execution.
Gil's advisor, Dr. William Ableman learns that Rick is a serial killer after Danny's mother. William is in love with Gil and wants her pulled from the field for fear she may not survive. But Gil wants to stay, because abandoning the assignment will unleash a Time Tsunami and destroy the timeline.

Gil's friends and fellow cadets, along with TEMCO staff are worried for her safety. Gil and William learn the importance of faith and the price of true love through this difficult situation. Does Gil have what it takes to defeat the ruthless and calculating Rick Olsen and return from the deadly mission?
In my opinion, Time Tsunami would be classified under the fantasy/sci-fi genre, a category of books I usually don't read. But I'm sure glad I read this one. I literally didn't want to stop reading until done, but couldn't get away with that.
I thought Danele did a fantastic job of creating the futuristic setting for the story, yet it wasn't overly complicated. The concept of time travel to prevent death-row offenders from committing the crimes they'll be executed for is innovative, to say the least. Some parts of the story brought me to tears. I highly recommend this book, not only to the fantasy/sci-fi readers, but to anyone who likes action, adventure, suspense and romance.