In compliance with updated FTC Guides Governing Endorsements, Testimonials, etc., please be advised that the Web site of author, Deborah M. Piccurelli (www.deborahmpiccurelli.com), does not ā€œendorseā€ or provide ā€œtestimonialsā€ via its reviews. The reviews are synopses and critiques of books this reviewer has read. While the majority of the books I receive are provided free of charge by various publishers and authors, some books reviewed are also procured by self-purchase. The reviewer does not typically review books unless a good or better report can be given, as indicated by the heading on the review page of the site.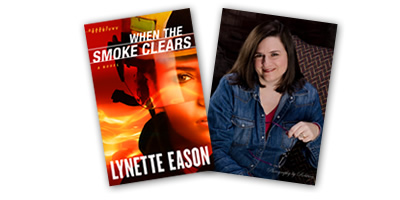 REVIEW OF
WHEN THE SMOKE CLEARS
BY LYNETTE EASON
First off, I have to say I love the cover. It is definitely a book I would pick up if I saw on a table or shelf in the stores. As for the story—wow! I was hooked from the very beginning. There were lots of twists, and I was kept guessing down to the last minute
After a brush with death due to equipment failure, smokejumper Alexia Allen, is ordered to take time off while the incident is under investigation. She makes a last-minute decision to recuperate at her mother's home and attend her high school reunion. Yet trouble seems to be following her, and within hours of arriving home she is confronted with murder, arson—and a handsome detective.
But the conflicts ahead are nothing compared to the ghosts of her past. As she struggles to accept and forgive her family's past, she must also decide if the secret she's been guarding for the last ten years must finally come to light.
If you enjoy stories that move at the speed of a bullet, have tender romantic elements, and leave you with total satisfaction at the end, then do whatever you can to get your hands on this book. Lynette Eason is a star in the romantic suspense genre!