In compliance with updated FTC Guides Governing Endorsements, Testimonials, etc., please be advised that the Web site of author, Deborah M. Piccurelli (www.deborahmpiccurelli.com), does not "endorse" or provide "testimonials" via its reviews. The reviews are synopses and critiques of books this reviewer has read. While the majority of the books I receive are provided free of charge by various publishers and authors, some books reviewed are also procured by self-purchase. The reviewer does not typically review books unless a good or better report can be given, as indicated by the heading on the review page of the site.
REVIEW OF
RETURN TO BELLA TERRA
BY MARYANN DIORIO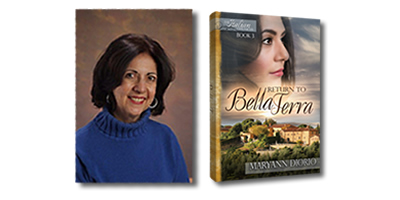 This is the third book in the Italian Chronicles trilogy by Dr. MaryAnn Diorio. I have read both the first and the second and couldn't wait to read the third. I have to say that I was sorry to have it end.
MaryAnn is a talented writer, which talent is a gift given to her by God. His fingerprints are all over her stories, no matter what the genre. There is a beauty and a rhythm contained in them.
In Return to Bella Terra, Maria Tonetta, our heroine throughout the series, must return to Sicily as her mother's last wish before dying. Her husband, Luca remains at home with their two daughters, but her son, Nico, now grown, accompanies her on the journey. They arrive just in time to visit with her mother, but the time they spend with her is short. Soon, they are planning the funeral.
Shortly after, it is revealed to Maria that her beloved Bella Terra must be sold, as her two sisters do not have the finances for its upkeep. Maria is devastated, as she longed to return and to leave her portion of the property as an inheritance to her children, thereby keeping it in the family as it has always been.
But there seems to be no way.
Meanwhile, Nico, discovers the identity of his real father and begins a relationship with him. Then, he becomes smitten with Sophia, the daughter of a woman who had planned on marrying Luca years before.
All of these things weigh heavy on Maria's shoulders, coupled with the fact that she planned to ask Luca if they could return to Sicily, even though he believes he is following the lead of Holy Spirit by living in America.
Will Maria be able to save Bella Terra before it must be sold? Can she change Nico's mind about Sophia before their relationship becomes too serious? Will she lose Nico to his father?
If these questions intrigue you, then you must get the last volume of this trilogy to find out the answers to all of them. You will be glad you did.
.