In compliance with updated FTC Guides Governing Endorsements, Testimonials, etc., please be advised that the Web site of author, Deborah M. Piccurelli (www.deborahmpiccurelli.com), does not ā€œendorseā€ or provide ā€œtestimonialsā€ via its reviews. The reviews are synopses and critiques of books this reviewer has read. While the majority of the books I receive are provided free of charge by various publishers and authors, some books reviewed are also procured by self-purchase. The reviewer does not typically review books unless a good or better report can be given, as indicated by the heading on the review page of the site.
REVIEW OF
WITHOUT PROOF
BY JANET SKETCHLEY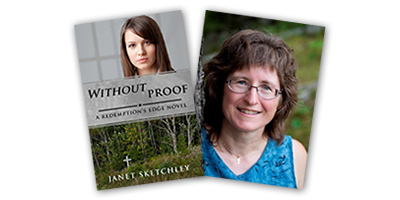 This is the third book in Janet Sketchley's Redemption's Edge series and it's another page-turner. I thoroughly enjoyed Without Proof, just as I did its two predecessors, Heaven's Prey and Secrets and Lies. I guess you could say I have become a fan of this author's work.
In Without Proof, Amy Silver had been in an airplane crash with her fiancé, Gilles Renaud, who died as a result. With no family around, Gilles' best friend, Michael Stratton and his Great-Aunt Bay had taken Amy in to nurse her back to health after the crash. She ended up staying and working for Michael in his art gallery.
When a reporter visits and raises the question that the crash was a sabotage instead of an accident, other little things begin happening. Amy receives text messages warning her not to ask questions, strange dolls are left on the doorstep, and Michael's gallery is ransacked and his artwork destroyed. Who is responsible? Is it because they are getting close to knowing someone wanted Gilles dead?
Through it all, Amy discovers she is in love with Michael, but fears he will never see her in that light because of his loyalty to Gilles. But why does he act like he cares so much?
If you like romantic suspense, and especially the kind that is written by Janet Sketchley, you will enjoy this installment in the Redemption's Edge series. I highly recommend it.