AN INTERVIEW WITH PATTI LACY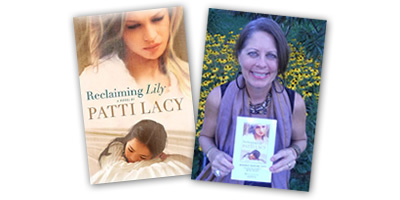 My friend, Patti Lacy, is back to talk about her newest release, Reclaiming Lily. Welcome, Patti!
Thanks for inviting me, Deborah! Too bad we aren't sitting over a REAL cup of coffee!
Patti, your website shows your writing is inspired by Romans 8:28. What specifically about that verse inspires it?
Deborah, God led me to write about His working for good in ALL things. Even a mother's abandonment. Even through sexual assault. Even through events that lead a woman to give up the most precious thing in the world. If we can just trust that God will work for good, perhaps those trials will be seen as the potential gifts to lay at His feet…and we will be equipped to help others who've faced the same troubles (2 Corinthians 1:3,4).
What was your inspiration for Reclaiming Lily?
In 2009, my mother contacted a physician named Dr. Chang for a medical procedure...and discovered a "God" connection, because years ago, my parents had taught English in Dr. Chang's city.
After that medical procedure, my mother awoke from anesthesia to find Dr. Chang in tears, saying, "You have cancer. But from this moment, you will be my American mother, and I will help you beat this."
Our family embraced Dr. Chang, who shared the story of how she and her sisters saved their parents following their release from a Cultural Revolution era prison. I now had the multicultural and historical links that give breath to my stories.
Because both of my brothers are adopted, the questions swirling about that process fascinate me. Where's that other family? Why did they place their precious swathed bundle into the arms of other folks? Since my parents had served in China, I was drawn into the "Lost Daughters" phenomena that has gained worldwide attention since the doors of China's orphanages have been flung open. The seed of my character Lily/Joy germinated by a combination of those two interests.
A friend's battle with PKD (polycystic kidney disease) provided the Jodi-Piccoult-like crisis that sizzled conflict through my story. Reclaiming Lily was born! After my agent's tear-down and rebuilding of my proposal, e-mails zipped into publishers' "in" boxes. I later signed a contract, traveled to China, and turned in my rough draft on November 15, 2010.
My adoption information is taken directly from the files and life of a friend who shared her daughter's journey from China to central Illinois. I also read over twenty books about China, its history, its people, with a focus on those lost daughters. A key resource was The Waiting Child by Cindy Champnella.
Whew! If it sounds complicated, IT IS! Writing on other countries demands research, patience, and a willingness to bend old mindsets.
Please tell us about Reclaiming Lily.
When a deadly disease strikes the Chang family, Harvard graduate Dr. Kai
Chang must alert Lily, the sister Kai left on orphanage steps. Standing in her way is Gloria Powell, a Fort Worth pastor's wife who distrusts Kai and thinks her entry into Lily's life will send the troubled seventeen-year-old over the precipice of teenaged angst.

A Texas-sized tornado whirls about the meeting place of the Kai and
Gloria. Tempers and cultures collide. Can Kai, Gloria, and Joy reconcile
their differences, surrender their dreams, and allow God to implement a plan
that provides supernatural, unbelievable joy?
Patti, who are some of your favorite authors?
Oh, goodness! Are you ready for a list as long as your arm? ☺ In the CBA, I'm always up for the reads of Cathy Gohlke, Julie Lessman, and Francine Rivers. However, there's so many exciting authors, such as Jennifer AlLee and Kathi Macias and Mary Conneally and Erica Vetsch. I love literary, classical, and popular fiction. My shelves sag with the work of everyone from Toni Morrison to Barbara Kingsolver to Charles Dickens. A recent Jodi Piccoult novel, My Sister's Keeper, provided inspiration for Reclaiming Lily.
What can we expect from you next?
I've developed a proposal for a series called "Life in Normal." Yep, I live in Normal, Illinois! A recent nonfiction biography, a Pulitzer Prize winner, Team of Rivals, by Doris Kearns Goodwin. Think Lincoln, Civil War, love at first sight!!!
Final question, Patti. After four novels, is there anything about writing you know now, that you wish you'd known starting out?
Oh, goodness, Deb! Yes, everything!!! Sigh. If only I can set my sights on writing for the audience of One and not get entangled in the mess that is life, God will take care of things.
Thanks so much for spending some of your precious time with us, Patti. It's always a pleasure to have you, and all the best to you for this book, and all of your future works!
Thank YOU, Deb. You've influenced my books since the very beginning and have been a faithful reader and friend. Now THAT's a blessing!!!!!
If you would like to win a signed copy of Reclaiming Lily, just use my "Contact" page, and type "drawing" in the comments box. The deadline to enter is December 23rd.