Michigan Brides - Amber Stockton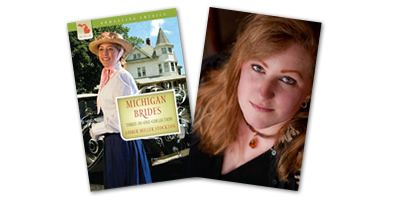 Michigan Brides
Michigan Brides is a collection of my second series of 3 books. All of them are set in Detroit, with some other locations in Michigan featured. Here is the publisher's description: Within the industrial boom during the Turn of the Century, three Michigan women react differently to their rapidly changing worlds. Felicity does a very noble deed only to lead her to a romance that would be banned by her wealthy society. Annabelle's interest in a potato picker is barred by the stigma society has placed on his ruined family. Shannon has seen too much about industry fail, prompting her to reject the suit of one of Henry Ford's employees. Can each woman find the faith to push through the barriers so they can embrace love?
Although this is a compilation book of three other novels, the inspiration for each one came as a result of my editor sending me a list of states for which she needed some proposals. I selected 3 states, did some research on the historical settings and events in each state, then developed some story ideas based on that research. Ever since I first saw the film, Somewhere in Time, I have loved Mackinac Island, located between the 2 parts of Michigan, so I included scenes on the island or references to the island in each book. The set in Michigan was the one she liked the best. So, that's the three books I wrote.
It's exciting to see these 3 novels release in a collection, as that means greater exposure and another chance for the stories to both entertain and inspire readers. Thanks for your support.
If you'd like to win a copy of Michigan Brides, use my Contact page and type "drawing - Michigan Brides" in the comments box. The deadline to enter the drawing is December 24th.