AN INTERVIEW WITH SALLY JOHN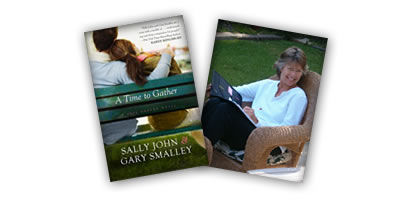 This month, my dear friend and veteran author, Sally John, has joined us for a chat.
Welcome, Sally, I'm so excited to have you here!
Thank you, Debbie. We've communicated for years now. As always, it's a delight to talk with you about writing.
Sally, you've said that you taught reading until your two children were born before beginning your second career in writing. Did you have any inkling during those years that you'd become a published author? None whatsoever! In my wildest dreams I could not imagine that writing books was a possibility for me, a homemaker who liked to read fiction. When our youngest was a preschooler, I wrote a manual for a software program, a project needed by my husband and his software designer business associate; it was an easy "how-to" but whetted my appetite for the written word. Then I took a class on how to get published. One thing led to another.
What was the first thing you wrote, whether published or unpublished?
A screenplay for "Bonanza."☺ I was about 12 years old.
Many novels later, you are writing with noted speaker and author, Gary Smalley. How did the two of you come to team up? I was working with my agent Lee Hough on trying to "brand" my type of fiction. When it became evident that I write "relationship novels," he had the idea that we might team up with Gary Smalley, the "relationship doctor."
One thing that always immediately hooks me into your stories is your characters. They are so realistically developed. Plus, the emotions they invoke! Do you have any specific method you use in their development? Before I start writing a story, I fill out a form (which I'm always tweaking) for my main characters. It's a mix of "laundry list" (eye color, pet phrases, gait, favorite music, job, education, etc.) and "in-depth psychological study" (fears, hopes, spiritual journey, unhealed emotional wounds). I also write a short biography, an exploration of her background which tells me what makes her tick. Not all of these details will come out in the story, but they give me insight into the character so that I can see life through her eyes. Therein lies the secret to representing a real-life character: to be able to live inside her heart makes it beat for the reader.
Sally, tell us about your current book, A Time to Gather?
It's the second book in the Safe Harbors series. In the first, A Time to Mend, we followed a middle-aged married couple through a difficult time in their marriage. That and all the years leading up to it naturally took a toll on their children. As adults, Erik and Lexi (we get to Danny and Jenna in the third book) have some issues to deal with, junk that's been building up and now expressing itself in full-blown self-destructive coping mechanisms. There's some romance for each, but mostly there's the coming to terms with brokenness and receiving God's healing.
What message do you hope readers take away from reading A Time to Gather?
That we all are broken in some way, wounded by others or by our own choices. God is just waiting for us to turn to Him. When we do, He enters into our pain, heals it by forgiveness (of ourselves and others), and then He transforms us.
How do you come up with your stories? What inspires them?
I draw from personal experiences, but I don't tell the real story in fiction. Does that make sense? ☺ For example, my husband, like Max, is involved in a staffing business – but Max is not him. A friend, like Britte in The Other Way Home Series, was a math teacher and girls basketball coach – but Britte was not her. I write a lot about wives and teachers and moms, roles I've lived – but those women are not me.

As far as story lines go, I use real-life situations, what's happening today in our society. Sometimes stories come to me by way of an "assignment" (for example, "Can you write a story about a firefighter?") or a place (I fell in love with a small village in Mexico a year and a half ago; it'll be in a future book) or a newspaper article (those people did what?!) or NPR news report (that's how money laundering works?) that grabs hold of my imagination. I plug some characters into the situation and see what happens to them.
I focus on the relational and emotional aspects. Every writing day I ask the Holy Spirit to inspire my imagination, to anoint the words; He does not disappoint.
Which of your books is your favorite, Sally?
Hm. Usually it's the one I'm working on. ☺ Though I really, really like A Time to Gather, a favorite is probably The Beach House. The four women's voices were the strongest I've ever heard. It was my first attempt at so many points of view and the writing exhausted me. My all-time favorite is my very first published book, now out-of-print, In the Shadow of Love. There was a lot of firsthand knowledge infused throughout it – fifth graders, Little League, a man (my husband's business associate) who did business in Vietnam, a San Diego community that felt an awful lot like the one we lived in – as well as the then-current news about MIAs and U.S. trade with Vietnam.
Who are some of your favorite authors?
Jamie Langston Turner (her writing style makes me drool). Anne Tyler. I don't read many books that are similar to what I write, so this part of my list is not one every reader would appreciate. ☺ I like suspense and good writing, especially John Lescroart (cops, lawyers, and family relationships), John Hart, Harlan Coben (his one series is humorous as well as thrilling). I just discovered Randy Singer (legal suspense).
Can we expect anything new from you in the near future?
A Time to Surrender, Safe Harbor's #3, will be out next summer.
Where can readers find you on the internet?
www.sally-john.com or by email: sallyjohnbook

aol.com
If the Safe Harbor series were to become a movie or TV drama, how would you cast your characters?
Debbie, I'm drawing a total blank here. I don't keep up with actors. I can't think of anyone beyond Diane Keaton for Claire and Lorne Greene (deceased!) for Ben.
Sally thanks so much for taking the time from your busy schedule to be here.
You are so welcome, Debbie.
If you would like to win an autographed copy of A Time to Gather, just use the contact page and type "Drawing #1" in the comments box. The deadline to enter is December 24th.