AN INTERVIEW WITH JULIE LESSMAN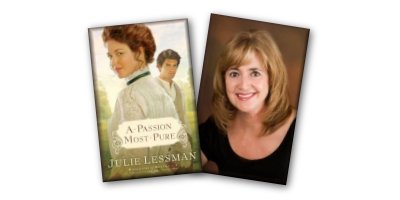 This month, we have debut author, Julie Lessman with us. Her novel, A Passion Most Pure, has been zipping off store shelves faster than a runaway train. No wonder—this book is HOT!
Welcome, Julie, I'm pleased to be chatting with you. I've read that you began writing this novel when you were twelve-years-old, after reading Gone With the Wind. Was it anything like the finished product today?
Gosh, I hope not!! ☺Actually, in the original manuscript (which I still have in my drawer, all tattered and worn), there are a number of things the same, including the first scene where Faith catches Collin kissing her sister, as well as the general plot of a love triangle spanning two continents and two cities (Boston and Dublin).
Of course, way back then, the original title was "When Tomorrow Comes" (now a Janette Oke title, how weird is that?). But all the names are the same except for Charity (whose name was "Del," short for Delatha … yeah, don't ask me what I was thinking!) and the bad-boy hero, Collin, whose name was—I'm even ashamed to admit it—Bart (okay, okay, I was in love with Bart Maverick at the time)! The ONE major difference in the story now and when I was twelve is indicated in the first line of the original manuscript: Patrick O'Connor was dead. Obviously Patrick (the father in the story) is very much alive in the updated version, especially when he and his wife clash over Charity's discipline!
Many authors use where they live or have visited as the locale for their stories. You live in Missouri, but chose to set your book in Boston. Have you ever lived or visited there? What draws you to that city?
No, I have never been to Boston, but have always been drawn to it. I'm not really sure why except I was fascinated with stories of the early Colonists and Colonial history in general, so I feel that may have had some bearing. I do, however, know why I chose Dublin. Ever since reading Gone With the Wind, I fell in love with everything Irish! And since the settings for my original 150-page, single-spaced manuscript were Boston and Dublin, I kept them for A Passion Most Pure as well. I was pleasantly surprised when I began writing A Passion Most Pure almost 40 years later and learned that Boston was considered the heart of Irish America because of its large contingent of immigrants after the potato famine. So it all fit!
Julie, this story conveys the parallel between the passion Jesus has for us, and passion within a Christ-centered marriage. What kind of reaction have you gotten from readers on this aspect of the book?
Oh, great question, Deb! The #1 positive comment I get from most readers is that they would LOVE to have a relationship like Marcy and Patrick's. For me, the parents' relationship was one of the most important aspects of this book because I wanted to depict just how good (and unique) a romantic relationship with God in the middle can be. Even my publisher told me that Marcy and Patrick's relationship was one of the main reasons they bought the book. And to be honest, as a baby boomer, I get real tired of the young people getting all the romance!☺
I actually had a close friend whose marriage is not very good tell me that she loved the book, but she thought that Marcy and Patrick's relationship was a little unrealistic. I didn't have the heart to tell her that is exactly the relationship that God has blessed my husband and me with. So I know that it is possible, but NOT without adherence to God's precepts. "Wives, respect your husbands"—not always easy, but application of this precept can unleash blessings galore in most marriages. Marcy and Patrick's marriage was not perfect—no marriage is. But when God is at the center, I honestly believe that the majority can become all that God intended them to be.
There are two minor characters in A Passion Most Pure whose stories I'd like to read someday: Maisie and Brianna. Do you have any future plans for them?
Goodness, I may just have to consider that because you are not the first person who has expressed interest in a book about Maisie and Brianna. But to be honest, no, I had not considered it before because I have my hands full with the O'Connor siblings. I will be writing Katie's story next, which should be fun because she is a real pistol who comes of age in the Roaring Twenties, and then Sean and Steven's stories separately. I have also been toying with the idea of a prequel for Marcy and Patrick because their sub-story in Book 3 is soooooo dramatic, that it would be a lot of fun to unfold it further in a final O'Connor book. But time will tell.
You've mentioned that your husband wouldn't read A Passion Most Pure until it was in print. Why was that? Since reading it, has he decided to read all of your future works while still in manuscript form?
Grin. My husband is a big, hulking sports-minded man who does NOT like to read novels (my book was only the 2nd or 3rd novel he has read in over 30 years!), so I did not mind a bit that he would not read the manuscript. But I have to admit, I was pretty shocked when I caught him reading an ARC copy of A Passion Most Pure, and even more stunned when it made him cry and kept him up till the wee hours of the morning. Now he's excited about reading Book 2, A Passion Redeemed, but still wants to wait for the ARC copy as he does not like the big binders.
In your job as a commercial writer, do you find that as much fun as novel writing?
Well, I actually quit that job in March (YIKES, can you say "no more dinners out"?? ☺), but when I was a commercial writer, I did enjoy my job as travel writer quite a bit, especially the people and researching/writing about various travel destinations. But, no, there is NO WAY any writing job can compare to novel writing for me. It is one of the greatest highs I have ever experienced, losing myself in another era and family. In fact, my husband LOVES when I start writing another book because he is assured of having a wife who is VERY happy, a lot more fun and very romantic. ☺
Julie, is there anything else you'd like us to know about A Passion Most Pure?
The MOST important thing I pray readers take away from this book is the reality of how natural and fulfilling an intimate relationship with God can and SHOULD be. Like breathing. This book may be fiction, but this is NOT a fairy tale here. It is possible to have a living, breathing relationship with the God of the Universe. He's crazy about us, and if most people really understood that, their lives would turn on a dime and blessings would overtake them. Believe me, I KNOW this firsthand—I used to be a hard, cynical, coarse human being before God pulled me up by the scruff of the neck and said, "Yo, Julie! Get a clue. You're the apple of my eye!" ☺ He's been the love of my life ever since.
One last question, Julie. We all know that authors read extensively things that are related to their writing. To give us a tiny glimpse into who you are, tell us what sort of things you read just for fun.
Are you kidding???? ROMANCE!!!!! I am more of a "Calgon, take me away," type of gal rather than "slice-of-life," so I don't read a ton of Women's Fiction or nonfiction, mostly lovely, uplifting, heart-pounding romance. The bigger the book, the better, in my opinion (which explains the … ahem … length of my own novels!). Turn my head with romance and nail me with God's precepts in the process—that's my kind of book! Like Francine Rivers' Redeeming Love or Liz Curtis Higgs' Scottish trilogy—Wow, "pure" enjoyment!
As far as favorite books, well, number one is no secret—Gone With the Wind. This is the book that launched my romance-writing career at the age of 12, and I think I may be one of the few people around who actually LOVED Scarlett O'Hara. And don't even get me started about Rhett Butler (be still, my heart!). Another all-time favorite of mine is To Kill A Mockingbird—incredible storytelling!
Some of my Inspirational favorites are Francine Rivers, of course, particularly Redeeming Love and her Mark of the Lion series—both awesome! I absolutely love Liz Curtis Higgs' Scottish trilogy, Fair is the Rose, Thorn in My Heart and Whence Comes a Prince, as well as Kathleen Morgan's Child of the Mist and Daughter of Joy. And Kristin Heitzmann's Diamond of the Rockies series is another favorite. Newer authors that I particularly like are Tamara Alexander and Deeanne Gist, as well as all the fabulous books of my "Seeker" sisters Mary Connealy, Camy Tang, Deb Giusti, Cheryl Wyatt, Missy Tippens, Janet Dean and Sandra Leesmith.
Thank you Julie, I've certainly enjoyed our chat. I wish you all the best with your book.
Thank you, Deborah, for hosting me on your web site. It's been fun! And I LOVE to hear from readers, so they can contact me through my Web site at www.julielessman.com, either by sending an e-mail via my site or by signing up for my newsletter. Currently in my newsletter, I am having a contest to win a signed author copy of Book 2, A Passion Redeemed, before it even hits the stores! Also, I invite your readers to visit The Seekers, a group blog of which I am a part, at http://seekerville.blogspot.com/. It is a blog about "The road to publication. Writing, contests, publication and everything in between." Thanks again, Deb, and God bless!
Don't forget to sign up to win an autographed copy of A Passion Most Pure. Just use the contact form on this site, and type "Drawing" in the comments box. The deadline to enter is June 24th.