AN INTERVIEW WITH C. J. DARLINGTON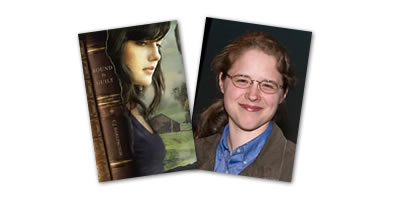 This time, C.J. Darlington is here to chat about her latest release, Bound by Guilt.
Welcome, C.J. I'm thrilled to have you back!
I'm thrilled to be back! Thank you, very much, Deb.
C.J., where do you write?
Last night I wrote at the dining room table. The night before I sat on my bed surrounded by my doggies. That's the beauty of having a laptop. I do have a portable desk I also set up in the corner of the bedroom sometimes. It folds up nicely and can slip beside my dresser well. There have been times when I've gone to a coffee shop to write, but I usually find the activity way too distracting (and the food and coffee too tempting!)
What drives you to write?
Several years ago I was questioning the value of writing as a ministry, and the Lord brought to my attention that Scripture in Ephesians which talks about each of us being called to different things. When I got to the part about evangelists, I felt like the Lord was telling me that was my calling. Through my writing I have the chance to share the greatest story ever told. Maybe someone who would not receive from a pastor or a preacher would pick up a novel. That's my hope---that people would read my stories and understand how much God loves them. It's why I write.
Do you outline, or are you a SOTP writer?
I write mostly seat-of-the-pants. I usually know my main characters, a few of the big scenes, and the general idea of an ending. But often that changes as I go. I'm finding that I do well writing a really fast first draft to discover the story. Then in future drafts I can cultivate what worked and cut out what didn't. Sometimes I'm surprised at the turns the story can take by writing SOTP. My subconscious often has ideas of its own about the direction a story should go.
Do you think about your readers as you write?
My fellow author Sibella Giorello recently shared with me this quote from Elizabeth Berg: "When I'm writing the first draft I don't think about the reader at all. Ever. I just think about the story. But every draft after that the reader is the only person I think about." This is what I strive for.
How well do you know your characters before you start?
Often I think I know a character well, only to discover new things about them in the eleventh hour. I always try to discover their histories and motivations before I begin writing, but usually during the writing process is when they become three-dimensional.
Do they ever surprise you?
Yes! In fact, there's a little twist at the end of my novel Bound by Guilt involving one of the supporting characters I did not plan at all. I remember when the idea came to connect her past with the present in an unexpected way, and I was giddy with excitement. I'd heard of authors talking about how a character surprised them, and it had finally happened to me! LOL. In all seriousness, I credit that serendipitous moment to the Lord as I know He's the one who popped the idea into my head.
How do you think you've grown as a writer in the time between your first book and now?
I think there's more depth in my second novel than my first. Thicker than Blood will always hold a special place in my heart, but in Bound by Guilt the characters and story are a little deeper. I'm learning how to expand scenes better so they have more meat, and I think my dialogue has improved as well.
C.J., please share with us about Bound by Guilt.
Bound by Guilt is the story of a teen girl named Roxi Gold who's been in and out of foster care for most of her life. She longs for a family and will do anything to fit in---even if it's against the law. Soon she finds herself traveling the country stealing rare books from unsuspecting bookstores. Abby Dawson is a cop who's seen the worst of society, but not just at work. One fateful night, both their lives are changed forever. One searches for justice, the other finds herself on the run.
You've said that you someday wish to write a book with your mom and twin sister. Would it be fiction or nonfiction? What might it be about?
We've toyed around with both! At one time we were writing a children's story together, and Tracy and I almost completed a nonfiction book proposal for a teen book based on some of Tracy's articles (she's also a freelance writer). We'll see what the future holds.

Well, C.J., thanks so much for the opportunity to interview you again.
Thank YOU! I really appreciate it.
If you would like to win a signed copy of Redeeming Liberty, just use my Contact page and type "drawing" in the comments box. The deadline to enter is April 24th.