AN INTERVIEW WITH DEBORAH PICCURELLI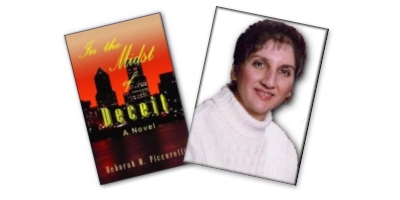 Readers, please bear with me and pretend that I am two people. I will be interviewing myself, giving you all a chance to find out some things about me you may not have known. Here we go.
Welcome, Deborah! It's a pleasure to have you here with us.
Thank you for having me, Deb. It's always a pleasure chatting with you.
Deborah, when did you know you wanted to be a writer?
I never really planned on it. A couple times in my childhood, reading books I loved compelled me to try writing one myself. Being a child, however, I never finished either of them, nor did I have anyone to encourage me to continue. Only after I married and had children, did I get into it. And only by accident, at that. I tried writing to raise money for patenting some items I invented. But once I started on the course, I fell in love with it, inventing went by the wayside, and here I am.
Interesting. What do you like to write?
I write what I love to read most, and that's suspense or romantic suspense. But my recent projects are not just the normal stuff. The stories are woven around current issues I find in newspapers and magazines, but that we don't hear much about. They're usually confined to a couple paragraphs in a sidebar.
What makes you want to write about these "obscure" issues?
I can't really explain it. It's a passion of mine. They're usually subjects that anger me for the injustice, or something outlandish and unthinkable. The tagline on my Web site is Uncovering the Unthinkable. I want to bring people to awareness of what's going on in the world that we either know little about, or that have been kept hidden; things that we may find unbelievable to be happening in these times.
Do you have any of those stories published, Deborah?
Not yet. I did have one book published in 2004, but that was the regular romantic suspense. It's out of print, now, and I am seeking an agent to represent my current projects.
What about your characters?
A lot of my characters face some kind of physical affliction. I guess you could say that I love to create characters that society might deem as "unlikely heroes." Their obstacles help to create more tension and conflict.
Do you write full-time, Deborah, or do you have a day job?
I don't have a full-time job. I'm a homemaker, but I can't say that I write full time. My daily schedule is too hectic for that, but several hours a day are devoted to writing and writing-related activities.
Though you don't work out of the home now, I'm sure you've been employed in the past. Can you tell us a little about your working background?
Most of my working years were with the county court system. Later, I spent some years as a legal secretary. I even did a two-year stint working for a financial planner. A lot of experience there to draw from for writing ideas, right?
What do you like to do in your spare time?
What is spare time? LOL! If you stop by my Web site, you can tell that I love to read books and watch movies/DVDs, because I review a lot of them. I also love to spend time with my family, taking walks in the park, at the shore, dining out, or visiting. Another activity I like is getting together with friends.
Thank you, Deborah, for taking the time to visit with us. We wish you all the best in the publishing of your current manuscripts, and look forward to another interview when that comes about.
Thank you, Deb. It's been great fun chatting with you. I, too, look forward to doing it again.
Well, friends, I hope you enjoyed this one-person, two-way conversation. At first I thought it might be creepy, but it was really kind of fun. Why not try it yourself.
See you all next month!