INTERVIEW WITH DELIA LATHAM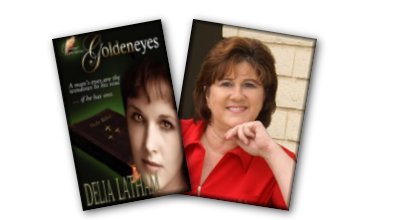 This month, we are chatting it up with Delia Latham. Delia is the author of the romance novel, Goldeneyes, a children's book, and a short story in the upcoming anthology, The Shortstack: 20 Stories to Fill You Up. She is married to a Pentecostal minister, and is involved in the music ministry at their church. Delia plays piano and sings. She is the mother of four grown children, and has four grandchildren. Delia and her husband reside in Bakersfield, California. Let's give a big welcome to Delia!
Delia, we're happy to have you here with us, and eager to learn about you and your book.
Delia, you've said that you won an essay contest in the third grade, which is when you became hooked on writing. Do you remember what your essay was about?
Actually, I do—which surprises me, since there's so much about my childhood I don't remember. The essay was titled something like, "What I Was Like As A Baby." It was so much fun! I had to interview my parents, brothers and sisters, and other family members to obtain their memories of my infancy, since of course I couldn't remember it myself. I also remember how much I enjoyed going through Mama's big box of snapshots to find a photo of myself as a baby to take to school with the essay.
Afterward, did an adult come along side and mentor you? Did you receive any type of special training?
My uncle was my pastor, and his wife was a huge influence on me. She was a wonderfully talented, funny, charismatic woman—and she believed in me. From the time I wrote my first little verses of poetry as a child, she encouraged me and pushed me to do more. She's the one who first planted in my heart the idea that I could write a novel, and prodded me to learn what I needed to learn to make it happen.
No special training as far as formal education. I took a few partial courses on writing (Longridge Writer's Group, Institute of Children's Literature, Newspaper Institute of America) when my children were very small. My time and finances were extremely limited, so I was unable to actually complete any of those courses. But I learned something from each of them. I worked as a newspaper Staff Writer for a few years, and that really helped me learn to write tight. Through the years, I've also purchased countless books on the craft of writing, and while I enjoyed some more than others, again…I learned something from each author.
What's a typical day like for the writer, Delia Latham?
I'm blessed to be able to devote most of my time to my craft. My husband is retired and he's an incredible source of support and strength to me. As far as my writing is concerned, he's definitely an enabler! ☺
I babysit my 2-year-old grandson until just after noon during the week, and I love doing that. (I'm an undeniable homebody, and an unrepentant spoiler of wee ones.) In the afternoons, if I'm not in the thick of a book, I do whatever needs to be done—household chores, errands, etc.
But late at night, when the rest of the world is sleeping, my mind goes into writing mode. I'm usually up well into the wee hours of the morning, especially when I'm in the "zone," and a book is moving along at a good pace.
In your current release, Goldeneyes, there is a character who is an alcoholic. What led you to choose such a character?
This character—Jack Kelly—commits a crime that will make most readers cringe and want to rip the man apart. I needed Jack to be totally unlovable at the beginning of the book. (Just to be clear, I am not saying all alcoholics fall under an umbrella of "unlovability," if there's even such a word. I don't believe that myself, not for a moment. Alcoholics are simply people like you and me—with problems and a weakness. But God loves them and is well able to deliver them from that bondage.) That said, I needed a strong incentive for this character to do what he did—an incentive such as, perhaps…an addiction. Goldeneyes takes place before street drugs became a household word, and besides, this character is poverty-stricken. So alcohol became his "drug" of choice.
The plot of your book is intriguing. How did you come to write about a child-snatching?
All I can say is…the inspiration for this book came from a Higher Power with a much better imagination than my own!
As a child, I was very familiar with the farm labor-camp lifestyle—folks came and went nearly every hour of every day. Social and economical circumstances forced a life of transiency on them. They had no choice but to go where the work was, and to strike while the iron was hot. So if they heard of work, they left—immediately. Looking back, I realize it wouldn't have been difficult to drift in and out of a camp without ever really "meeting" anyone, and without divulging your identity to a soul. What a perfect situation in which to take a child and just head on down the road!
As you write your stories, how do you make sure to draw out the readers' emotions? What's your secret?
I'm not sure I have one. I do strive to make readers feel something—sorrow, joy, anger…whatever. And I use every tool available to me to make that happen, by building emotional events into my storyline. If readers can share a laugh or shed a few tears with my characters, they'll bond with them. When that happens, they're hooked. And that's what I want.
What about your characters? What elements do you utilize to make them memorable?
Mostly personality traits or quirks.
I could probably write in such a way that you would enjoy reading about a woman who is disturbed by a recurring dream of her long-dead father. But you'll remember her better—and longer—if she also has an irrational fear of death…and dead people. Under this particular circumstance, a dream of a long-dead father would not comfort, but terrify. Much more memorable, don't you think?
How long from the start of writing Goldeneyes to its actual release?
About two years. I hit a huge writer's block partway through the story and had to put it on a back burner for awhile, so the process was considerably slowed. I'm sure God had His reasons for the delay, but it was so frustrating for me, knowing I had the makings of what I thought was a really, really good book…but I simply couldn't bring it together. Argh! I prayed a lot! When God finally gave me the go-ahead, He also provided the inspiration, and finishing the story didn't take long after that.
Then there was another waiting period of about a year between signing the contract and date of release.
Delia, what would you like readers to take away from this book?
No matter how dark the day, no matter how dreary the situation, God is able and willing to give light and hope. I also want readers to realize that nothing is too big for God to handle, and nothing is too bad for Him to forgive.
Is there anything else you would like us to know about Goldeneyes?
Goldeneyes will most likely always be the one dearest to my heart, no matter how many books I write. Because it's set in Weedpatch, where I grew up, portions of it felt almost too real to me. I could close my eyes and actually see the streets and the layout of the camp mentioned in the book.
Also, I'll never forget how hard I had to pray to break through the barrier of writer's block. I learned a lot about the emotions involved in a writer's existence, and it was also during this time that I learned to think of God as a friend and confidante…in other words, I built a relationship with Him. I don't know if I ever would have accomplished that without the roadblocks that were built into the writing of this book.
Getting back to that bed doll you won in the third grade: do you still have it? If not, do you remember what happened to it?
The answer is "no" to both questions. I have no idea what I did with that beautiful doll, but oh how I wish I had kept it! Too bad we don't realize the importance of things…events… people…relationships, etc., until we no longer have them, isn't it?
I do have photos of similar dolls on my website, if anyone is curious about what, exactly, a "bed doll" is.
Thank you so much for spending this time with us, Delia. I wish you many blessings and all the best with this book.
I've enjoyed my visit here, Deborah—thank you for having me!
There will be a drawing for an autographed copy of Goldeneyes. Just use the contact form on this site and type "drawing" in the comments box. The deadline to enter is April 23rd. The winner will be announced with next month's update.
To learn more about Delia and her books, visit www.delialatham.com.