ANITA HIGMAN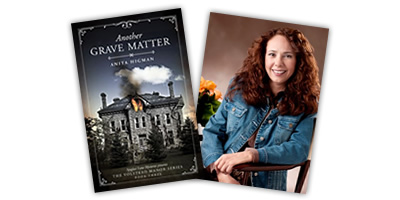 This is a "behind the scenes" photo of my writing space. It's so messy and revealing that I thought instead of publicizing it, maybe I should hide it in a drawer. This picture not only shows my lack of organization but it exposes the dominant feature of my brain—chaos. Somehow, though, it all works fine when creating novels like my latest cozy mystery entitled, Another Grave Matter. In fact, I live in horror that my family will try to do me a favor and organize my office—may it never be!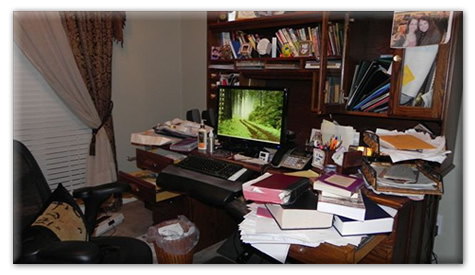 I think my creativity feeds on these unruly heaps, but my imagination is also cheered on by all the treasures that I surround myself with—such as a jewelry box my son made me when he was in school, a frosted-glass candle from the 1960s with a photo of Dr. Martin Luther King Jr. on the front, a plumed hat once owned by a famous mystery writer, the exposed working parts of a music box, a birthday card that plays "The Twilight Zone," and an old toy helicopter that not only makes little engine noises but when you push the button a voice says, "Going up." I love that!
This office is my home within a home. It's my magical grotto, and you're welcome to join me here—that is, as long as you don't get the urge to tidy…
----------- Another Grave Matter -----------
In this contemporary mystery, Another Grave Matter, my heroine, Bailey Walker, digs up a grim secret in a vault-like room that's been sealed off in the bowels of her cellar for decades. This grave secret in her mansion—Volstead Manor—arises from the dark age of Prohibition and from The Sisterhood of Penumbra, an organization of women who were determined to run their lucrative bootlegging business at all costs.
Bailey hopes to move forward with her wedding plans and her dreams of adopting a child, but the villain continues to conspire against her—wanting to purify the manor—by fire.
While Bailey takes up the role of the neighborhood sleuth, she receives a cryptic note in her mailbox. After deciphering the message, Bailey realizes she may have only hours to live. Bailey must find the villain before the hourglass of time runs out on her life.