JENNIFER EATON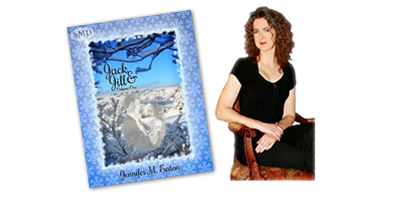 This month I'm chatting with Jennifer Eaton, author of Jack and Jill: Volume 1. Welcome, Jennifer!
Hi Deborah! Thanks for having me. I'm ticked to be here.
Your website says you are a corporate Team Leader by day. Sounds glamorous, to me. Will you fill us in on what you do?
Oh... I have to keep that a little clandestine. I've signed all sorts of confidentiality agreements. Basically, I am in charge of a department of people who buy stuff. It's not all that glamorous, but I work with a great group of guys.
You have what you call BETA partners. Are they the same as critique partners? If not, what's different about them?
It's basically the same thing, although some people call a beta reader someone who reads through quickly just to give an overall impression. I prefer a full on slice and dice approach when people read my books. When I think of a critique, I think of someone looking at a rough draft, where the beta looks at it when you have taken the book as far as you can go without someone else slapping you around a bit [smiles].
On your website, you've started something I think is really cool, called "Write a Story With Me." How does that work?
Oh I just LOVE Write a Story With Me! I started it out on a whim almost 40 weeks ago. I wrote 250 words to start a novel, and ever since a different person has added a new 250 words each week. It's exciting because new people are signing on all the time, and everyone is at a different level and from different genres, so you never know what you are going to be handed when your turn comes up. It's a great flash fiction writing exercise, and the story has gone in directions I never imagined when I started. If anyone wants to check it out, we're always open to newcomers. http://jennifermeaton.com/write-a-story-with-me/
Will you ever turn it into a published book?
I'd thought of putting that into the rules as a possibility, but I don't know. I don't actually do any editing on these... It's pretty casual. I had entertained the thought of self-pubbing it with all proceeds going to charity, but we'll have to see how it all turns out.
Jennifer, please describe your book, Jack and Jill: Volume 1.
I'd love to! Jack and Jill is a Contemporary Sweet Romance about a single mom (Jill) and her best friend (Jack) who come together after a series of events brought on by three unrelated Christmas wishes. The story deals with the struggles of entering the dating world after twelve-years of marriage, and the strength it takes to risk everything to hold on to what you believe in.
I've read that you normally don't write romances. How did this one come about?
It was actually kind of funny. I am what you might consider hyper-competitive, and a friend of mine was submitting to a Christmas anthology. Well, I just could not let an opportunity like that pass me by, so I had to write something. There was a catch though... it was a Romance publisher. Always up to a challenge, I wrote Connect the Dots for that anthology. The publisher accepted it, and this is the story that begins Jack and Jill.
What can we expect from you next?
I have a Paranormal Romance out querying with publishers now, and my Young Adult Novel Fire in the Woods will be finished very soon. I'm outlining the sequel to my story Last Winter Red as we speak, and I've also just finished a YA story for an open call for submissions. Jack and Jill also have some fun stories brewing, so you should see more of them very soon.
Will you share with us where readers can find out more about you and your books on the internet?
Absolutely! You can find out as much as you want about me on my website: www.jennifermeaton.com You can also find me all over the internet on your venue of choice...
Email | Website | Blog | Twitter | Facebook | Manic Readers | Goodreads | Amazon
Last question, Jennifer, and this one's about you. What is your favorite thing to eat in the whole world?
Ohhhhhh... I have this little problem with chocolate. The good stuff. Unfortunately it's a bit expensive. Wilbur Chocolates in Pennsylvania makes some uber creamy delectable chocolate too. Oh! You are so mean making me think of chocolate when I'm trying to be good!
LOL! Thanks so much, Jennifer for taking the time from your busy writing life to visit with me and our readers. It's been fun!
Thanks for having me. Your hospitality has been impeccable!
If you'd like to win an electronic copy of Jennifer's book, please use my "Contact" page, and type "drawing" in the comments box. The deadline to enter the drawing is 3/24/13.
Jennifer M. Eaton is a contemporary blender of Science Fiction, Dystopian, and Romance. Her work ranges from the sweet Contemporary Romances of Jack and Jill, to the Dystopian society of Last Winter Red, and beyond in upcoming Paranormal and Science Fiction adventures.
While not off visiting other worlds, Jennifer calls the East Coast of the USA home, where she lives with her wonderfully supportive husband, three energetic boys, and a pepped up poodle.
Full time team leader, full time mom, and full time novelist... what more can you ask for? Writing help did you say? Well, sure! Jennifer hosts an informational blog: "A Reference of Writing Rants for Writers (or Learn from My Mistakes)" aimed at helping all writers be the best they can be. Stop on by and chat. She loves to hear from fans! http://www.jennifermeaton.com/
***
Her Contemporary Sweet Romance, Jack and Jill Volume One is currently available in both print and ebook. The Dystopian novelette "Last Winter Red" is available as part of the "Make Believe" Anthology. Jennifer M. Eaton's Christmas Romance "Connect the Dots" is available as part of the "For the Love of Christmas" Anthology. Each title is available from Amazon.com and Barnesandnoble.com and Smashwords.

Jack and Jill Volume One:
Jill stumbles back into the dating world after twelve years of motherhood. But things have changed a lot since the last time she dated. Jack and Jill stories follow the challenges of a woman holding on to traditional values in a world that has evolved without her. Now that she has found the man of her dreams, will Jill be able to hold on to him without compromising what she believes in?

Last Winter Red:
In search of a husband, Emily leaves the safety of the city and risks her life stepping into the outside world. What she finds there will question the foundations of everything she believes in.
Connect the Dots
:
Jill has no idea what she wants for Christmas, but when it looks like her best friend Jack is going to get exactly what he asks for, Jill makes a Christmas wish that will change both of their lives forever.