AN INTERVIEW WITH JERRI LEDFORD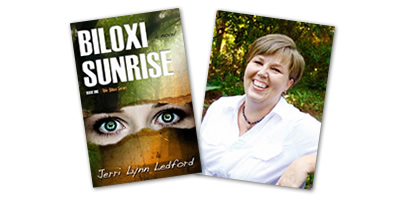 My featured author, this month, is Jerri Ledford, and we'll be chatting about her debut novel, Biloxi Sunrise.
Welcome, Jerri, I'm so pleased to have you visit with me!
Your website bio states you've been a freelance business technology writer for nearly 20 years, but that fiction is your first love. When did you realize you wanted to write fiction?
I've always wanted to write fiction, it's just that fiction wouldn't pay the bills way back when income was essential. I actually started out writing short stories and trying to sell them. I got lots of great comments back on them, but no takers. I took a book to a conference once (nearly 15 years ago) and the editor that reviewed it loved it, but said it was wrong for his house. He suggested another series, which I had every intention of writing, but then reality set in.
If I wanted to stay at home and write, I had to start making some money at it. So I started pitching articles. Turns out I was pretty good at it, and that grew into a full-time-plus job for a long time. It's only recently that I've had time to really focus on fiction like I used to.
Was the changeover from nonfiction to fiction difficult?
If I'm being honest, it's been…interesting. I'm trying to keep a finger in the nonfiction world, because that IS what pays the bills. But fiction is a whole different place to live. It's a lot more fun over here. But it's also a lot more work.
Because I went the traditional route with non-fiction, I had an army of people to help me with my work. As an indie publisher, I have only myself to rely on. For everything. From writing to editing to cover design and marketing. Of course, I bring professionals in the jobs that aren't my core competency (writing), but even lining all of that up takes time. I've gotten very good at scheduling!
Do the subjects you write about in nonfiction serve as good sources to your fiction writing?
Not really. My nonfiction work is mostly business technology. I teach people and organizations how to use the technologies that are available to them to be more effective and more efficient. I suppose I could write about a crazed technologist…I've met a few of them. But I'd just as soon keep those two worlds separate. It's just easier from my perspective.
There is one exception to that. A number of years ago, I did a variety of career profiles for an organization that packages those profiles and markets them out to job counselors and high schools. During that gig, I did hundreds of profiles of interesting careers. I may end up using some of THAT knowledge in my books. After all, everyone can't be a police officer or detective, right?
Mostly, though, I draw my subjects from my books by finding characters that have a story to tell. My current series – the Biloxi Series – is built around two police detectives. But that's where their story is. Future stories feature people who were never meant to be investigating murders as the main characters. It's their stories that drew me in, and then something happened to turn their world upside down, so now I get to go along with them as they go through these life changing events.
Jerri, please tell us about Biloxi Sunrise.
Biloxi Sunrise is a story that's dear to my heart. It's the story that introduces Jack Roe and Kate Giveans, these two Biloxi PD Homicide Detectives that are both hiding from their pasts and trying to catch a serial killer. To me, it's a journey through forgiveness for both of them – they must forgive themselves, but before the story ends, they must also forgive each other.
Here's the official blurb for the book:
He hadn't protected them.

When Homicide Special Investigator Jack Roe's daughter is killed in an auto accident and his wife dies from a drug overdose, he abandons a career as a Military Police Officer. If only he'd been there when they needed him, he could have saved them both.

He didn't protect her.

Six years later, Jack is in Biloxi, Mississippi to be close to his sister and her daughter, Lisa. As long as he's around, nothing can happen to them. But then he's called to the hospital in the middle of the night and learns that Lisa has been abused by her mother's boyfriend. Jack must confront old wounds that never healed, and a burning anger that's been buried for far too long.

She can't protect him.

The same night, a woman's body turns up on the beach. A few days later, so does another one. Jack must deal with his past and his present while he and his partner, Kate Giveans, race to find a killer before another woman dies. But Kate harbors a secret that just might get Jack killed.
What compelled you to write this story?
The characters. Jack came to me a very long time ago. He's been sharing my head for years. There was something about him that just wouldn't leave me alone. It took a long time before I figured out exactly what that was.
Somewhere along the way, Kate showed up. I'm not even sure when. But I loved her immediately. She's everything I wish I could be, but am not.
After a while, I couldn't NOT write the story. The first draft of this book came out in about six weeks. It was that intense. Of course, it took much longer from the final first draft to the book that's available now, but even that part of it was fun – finding things about Jack and Kate that I had missed the first time around. It's a cool job to have.
The story wasn't unimportant, but I think the characters are what drives it forward. Their imperfectness. Their mistakes. The story is important, too, though. It deals with an issue that's tough – inappropriate relationships between older teens and adults. It happens. A lot. And even in the best of circumstances it can be very damaging. I wanted to explore that theme as much as Jack and Kate wanted to find their killer.
As a series, will the same characters be in each book?
In this series, yes. Jack and Kate have a lot to work through together. They can't get it done in one book. They'll play less of a role in Book 3 – Biloxi Heat – where Lisa finally gets the spotlight she deserves. But they'll be there.
In later series I have casts that each get their own books. But right now, I have to get through this one. It's driving me insane!
Who is your favorite character in this book?
All of them. I love them, all. Jack is this great, well-built, handsome but not model perfect guy who has real thoughts and emotions that tangle him up sometimes. He doesn't always know what to say or do, even though he looks like he does.
And Kate is this tough, brassy woman that really just wants to let her guard down for a few minutes. She's strong on the outside but on the inside she's always questioning whether she's making the right decisions or screwing something up. She wants that one person with whom she can just let down her guard long enough to rest. If she had that, she could continue facing the world as this strong, independent cop that won't let anything stand in her way.
Caleb, the new guy, is Southern gentleman with an Abercrombie body. He's sweet but tough, and has no clue the affect he has on people.
Lisa is this tough teenager that's been put through the ringer. Her father was absent, her mother was a drug addict, and she's looking for something. Only, she's not sure what she's looking for just yet.
When will the other volumes in this series be released?
Biloxi Blue is scheduled for release in Late April.
Biloxi Heat is scheduled for release in Fall 2012. Right now it looks like maybe in August.
Jerri, please share where you can be found on the internet.
I'm all over the place! =)
Website: http://www.JerriLedford.com
Blog: http://www.JerriLedford.com/blog
Facebook: http://www.facebook.com/JerriLedford
Twitter: http://www.Twitter.com/#!/JerriLedford
Goodreads: http://www.goodreads.com/authorjerri
Well, Jerri, thank you so much for being here on my website. It was a pleasure to host you.
Thank you! I've really enjoyed sharing my journey to and through the fiction world. Sometimes, it's nice to remember how and why you are where you are in this moment.
If you would like to win a copy of Biloxi Sunrise to download for your e-reader, use my "Contact" page and type "drawing" in the comments box. The deadline to enter is March 24th.