AN INTERVIEW WITH DIANE & DAVID MUNSON ~ "ExFeds"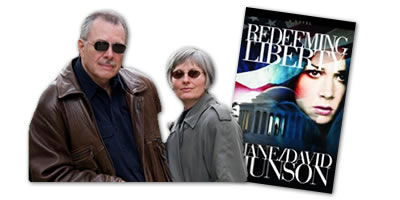 This month, husband and wife writing team, Diane and David Munson, are my featured authors. Diane is a former federal prosecutor and David was a NCIS agent and an undercover DEA special agent. Together, they are "ExFeds," who write "High Velocity Suspense."
Diane and David, thank you for taking the time to visit with me. It's a pleasure to have you here on my Web site.
Your Web site states you began writing after a memoir by a millionaire drug dealer became a movie. Are there any plans in the works for a movie to be made of one of your novels?
So many readers tell us that our novels would make exciting films and we appreciate the encouragement. With God anything is possible. And yes, a man David arrested was featured in a movie, based on his memoir of the same name. The movie ended with that fellow behind bars with no hope for his future. In each one of our thrillers, the federal agents risk their lives to catch the bad guys and some of our agent/characters are believers in Jesus. He is the hope for all the world and the light we hope will penetrate hearts and minds through our realistic thrillers.
I love your tag line, "High Velocity Suspense." How did you come up with it?
During my career as a Federal agent, I started carrying a .38 caliber revolver. With the increase in violence and more dangerous weapons being carried by criminals, we were issued semi-automatic pistols that were much higher velocity. When we considered the suspense fiction on the market, we realized much of it was unrealistic and unbelievable, so we determined to write "factional fiction" based on real cases we worked and true events. Our novels are really high velocity by comparison, so that's what we call them. The pace is fast, but the story lines are not graphic, which makes them family friendly.
When asked how the two of you write together, your answer is that Diane starts at the beginning, and David starts at the end, writing backwards. I'm curious to know, David, how do you write backwards? Seems a difficult task, to me.
After our first novel was released, a lady asked us at a library event how two people could write a single book. David responded off the cuff: "Diane begins writing at the beginning and I start writing backwards from the end. When we arrive at the middle we know we are done." Most of the audience laughed at the absurdity; however, a year later, we received an email at our website from that lady. She wrote that she had finished reading "Facing Justice" through a second time and finally discovered where Diane's part ended and David's began. Yikes! Now whenever David makes that statement, he explains he's joking. In reality, we pray about the main theme and characters. Then we forge a mini- outline for the entire story, beginning, middle and end, looking for twists along the way. The next step is we each write different scenes, depending on our strengths and knowledge. We exchange those scenes and edit each other's work. That is a fun part because we see drama growing from the other person in ways individually we could not have imagined. After the book is written, we do go to the ending, tracing the plot backwards to ensure we've tied all the ribbons together to create a striking bow.
As you travel for research for future books, what are some of the places you've visited?
Without giving away too much about our future books, we'll spark your interest with some of our travels for our past novels. We visited or spent lots of time in the Washington, D.C. area, Chicago, Michigan, and Florida. Thus, in The Camelot Conspiracy, Kat Kowicki the TV reporter is sent back to Chicago where she receives new evidence in President Kennedy's assassination. The insider's look at federal agents tracking down the masterminds of terror plots in Facing Justice draws upon our time in Washington, D.C. and Virginia. For Confirming Justice, we chose Florida to reveal one of Dave's undercover drug cases, changing the city and a few other facts. We've travelled to foreign countries such as, Kazakhstan, so that former Soviet satellite country emerges in a big way in The Camelot Conspiracy; England makes a fabulous backdrop to the international intrigue in Facing Justice and Redeeming Liberty; and in Hero's Ransom, something that happens to CIA agent Bo Rider in Thailand happened to David there.
Please share with readers about Redeeming Liberty.
In our latest thriller, we've crafted a story that showcases love and hope in the midst of the turmoil of international intrigue. This is a story inspired by four of our friends, who live in America now, but fled Sudan's civil war as "lost boys and girls."
Federal parole officer Dawn Ahern is shocked to witness her friend Liberty, the chosen bride of Wally (former "lost boy" from Sudan) being kidnapped by modern-day African slave traders during a visit to Liberty's Sudanese village. Dawn tackles overwhelming danger head-on in her quest to redeem Liberty. When she seeks help from FBI agent Griff Topping and CIA agent Bo Rider, her life is changed forever. Suspense soars as Bo launches a clandestine rescue effort for Liberty only to discover a deadly Iranian secret threatening the lives of millions of Americans and Israelis. Readers get a glimpse of tomorrow's startling headlines in this captivating story of faith and freedom under fire.
Diane and David, How did the connection between the slave trade kidnapping and the Iranian secret come about? Is it one of those real experiences?
In researching slavery in Sudan, we discovered Arab raiders from northern Sudan made a living capturing men and woman from Christian villages of southern Sudan, taking them to Arab regions of the north, and then selling them into other countries. The lives of so many men, women, and children have been ruined. We want to shine the light on the heartbreak of modern-day slave trading. There is a humanitarian agency that buys back or redeems these slaves for about $40.00 each. Thousands of people have been redeemed in this way. When Dawn and Griff attempt to redeem Liberty, things get very complicated for them, and Dawn draws upon her faith in Jesus to help her.
Please tell us where you can be found on the internet.
Our website is http://DianeAndDavidMunson.com and you can also find our FaceBook fan page as Diane and David Munson. We are still learning about FaceBook, but we like for fans to "like" us there. We also twitter and if you want to follow us on either, here are the links:
http://www.facebook.com/home.php#!/pages/Diane-and-David-Munson/143446772367345
http://twitter.com/DianeMunson

Did I read on your Web site correctly that David arrested the real person portrayed by Johnny Depp in the movie about the millionaire drug-dealer?
The man you describe, traveled from California to Chicago to deliver a steamer trunk full of drugs to me (David) and my partner. That was a man who as a youth grew up in affluent Boston suburbs with all the opportunities of a good high school and college education. I won't distinguish him by mentioning his name or his book. He went to prison for dealing drugs, which most of his contemporaries excused as recreational. When he came out of prison he went back into dealing, but got much bigger and much richer. He's been back in prison repeatedly, for promoting the sale of substances that intelligent people in our society claim are harmless. Many of his cellmates were his customers and more of them are arrested or die in our cities and towns and on our borders every day. Still many entertainers, those who influence our youth like movie producers and politicians, use these same drugs, deny the carnage around them and claim drugs should be legalized to solve our crime problem. We could not disagree more and so appreciate the days of "Just Say No," which helped many children gain strength to say NO! to drugs.
Have any book trailers been made about your books?
Yes. Here are some, with more in production. Stay tuned to our web site.
The one about us as authors: http://www.youtube.com/watch?v=My3A4yWTCYw
The one of us describing Redeeming Liberty: http://www.youtube.com/watch?v=2-7ljNj2tAk
Redeeming Liberty: http://www.youtube.com/watch?v=GesMfhM8a7Y
Hero's Ransom: http://www.youtube.com/watch?v=X-2OBSZeKAU&NR=1
The Camelot Conspiracy: http://www.youtube.com/watch?v=rq9sWkjUfFA
Well, Diane & Dave, Thanks, once again, for joining us. I wish you all the best with all of your books.
If you'd like to win a signed copy of Redeeming Liberty, use my Contact page, and type "drawing" in the comments box. The deadline to enter is March 24th.