AN INTERVIEW WITH RONIE KENDIG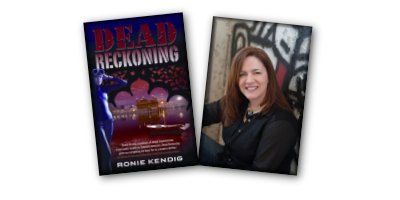 Debut author, Ronie Kendig, has stopped by for a chat. Her novel, Dead Reckoning, is released this month.
Welcome, Ronie! I'm excited to have this interview with you.
Howdy! Thanks so much for the warm welcome. It's always a treat to sit and chat with friends.
One of your bios states you were an army brat. Can you describe for us a little of what it was like for you growing up?
Crazy. By fourth grade, I'd been in five schools. This left gaps in my education, and the friends I'd made were short-term ones. All the same, I had a very loving mother who always knew how to make the best of rough situations. I think I learned that from her. Military life is rough all around. My hat's off to our heroes at home and abroad—and their families.
How and why did you start writing?
I've always been crafting stories, but it wasn't until I was a junior in high school that I really took to writing. I wrote as a newlywed (bought my first word processor at 21), and then my husband nudged me to see publication sometime around 2000. I still have my first rejection dated 2002.
How much does your BA in Psychology help in your writing?
Earning my Bachelor of Science in Psychology was one of the hardest things I'd ever done. The bulk of my schooling I did after I had four kids and was homeschooling them. I really don't know how I did it other than to say I did—but after I graduated, I began to wonder WHY. Why had I invested so much when I was full-speed ahead on this writing career track? But I soon began to realize that I had a much better understanding of people, of their psychological processes—the why behind what they do—and that has been such a huge asset to me in writing.
Ronie, in your speaking engagements, what sort of groups do you speak to, and on what subjects?
I've spoken to college students on writing Christian fiction, to others about my personal journey, and I'm scheduled to speak this year at a few ACFW chapters on topics varying from writing action/adventure, to experiences from the ACFW conference . . . I love sharing with others, and this is one venue I hope to expand in the near future.
Please tell us about Dead Reckoning.
Dead Reckoning is the story of a young woman battling for independence from her father's career that shattered their family. Unwittingly, she's embroiled in a nuclear arms clash that propels her into the path of a covert operative trying to rout the masterminds behind a dead drop in the Arabian Sea. Staying alive means surrendering her heart and becoming what she vowed she'd never be—a spy.
Was there any special reason you chose to write this story?
Honestly, the reason Dead Reckoning came to life was because the story of Shiloh's parents never found a publishing home. In looking at the arsenal of story ideas I had to work on next, Shiloh's story appealed to me the most. I loved the idea of a girl, almost completely shattered by her father's espionage career, finding her footing in life and through a career eerily similar to what her father did. Yet it wasn't a repeating cycle, but the way she found wholeness and healing.
Your novel is so rich in detail, technical and otherwise. Was that the result of extensive research, or some first-hand knowledge?
With all my heart, I wish I could say it was first-hand knowledge. I think my soul is that of a repressed world traveler. LOL At this point in my life I am unable to travel and see the world, but I hope to some day. Everything in Dead Reckoning came from research—either through others who are or have been there, websites, videos, online sources.
Where does your interest in spies and espionage stem from?
This is a great question because I've never stopped to consider it, but in looking at my favorite movies (Bourne, Mr. & Mrs. Smith, , they almost all contain espionage in some form. I think, perhaps, that my love of espionage thrillers almost goes hand-in-hand with my love of military thrillers. I love action, thrive on adventure, and adore the thought of heroes out there, protecting our country. Whether silent heroes (operatives) or soldiers. I know my freedom has been paid for with a great price. Yes, I know there are corrupt people in these roles—but that's just it, and probably why I like to write—the depravity exists in man. What makes one a villain and the other the hero? I love exploring questions like that.
Ronie, would you care to give us a sneak peek of the military thriller you have releasing in July?
I am so excited about The Discarded Heroes. We're working on a website for the series, but suffice it to say, this is going to be awesome. Nightshade, Book #1, will release July 01, 2010.
The blurb: They've championed freedom, survived the cruelties of war, and now these same heroes return home. . .wounded and discarded. Former Navy SEAL Max Jacobs is fighting a new war—a war for his family. Suffering from PTSD, Max is unable to control his anger and alienates himself from his wife, who files a protective order against him. Their lives are about to collide when Sydney Jacobs hunts down the source of a human interest story at her local newspaper. Will she uncover Nightshade, the elite team Max is covertly working with, and put their lives in danger?
Where can readers find you on the internet?
Just about anywhere:
Website: www.roniekendig.com
Facebook: www.facebook.com/ronie.kendig
Twitter: roniekendig
Shoutlife: www.shoutlife.com/roniekendig
Thanks so much for visiting, Ronie. It's been a pleasure having you here.
THANK YOU so much, Deborah! I've had a fantastic time hanging out with ya!
If you'd like to win an autographed copy of Dead Reckoning, enter the drawing by using the Contact page, and type "drawing" in the comments box. The deadline to enter is March 24th.