AN INTERVIEW WITH LYNETTE EASON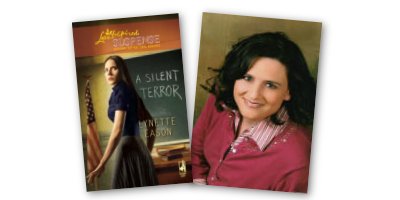 Lynette writes Romantic Suspense for Harlequin's Love Inspired Steeple Hill Suspense line and Revell.
Welcome, Lynette! It's a pleasure to have you visit.
Thank you, Deborah, it's great to be here! Thank you so much for asking me.
When you speak to women's groups and ministries, what topics do you speak about? Recently, I've spoken about walking through the doors God opens for you and just not being afraid to step out in faith to see what's out there. I relate it to my writing journey and how God brought all that about.
I've read that one of the things you like to do in your spare time is going to the movies. Name some of your favorites. I loved the movie Cellular with Nicole Kidman. I don't think it was a standout popular movie, but I thought it was great. I also love Gone with the Wind, Air Force One, The Fugitive and all of the original Indiana Jones.
Between the time you wrote that first novel that you've been known to call "awful," and the traditional publishing of your first Love Inspired book, what did you do to make that come about? What made the difference? I can't say there was any one thing that made the difference. We're talking an eight year time period where I was learning every day, going to conferences, studying what agents and editors were looking for, honing my skills. That was the big one. Constantly writing and putting it out there for critiques, entering contests and implementing the feedback, etc. I think it was just a combination of all of that that made the difference.
As you have worked with deaf students, aside from your current release (A Silent Terror), has that helped you in your writing at all? If so, how? I don't know that it's helped as far as writing to get published. It certainly helped make the books with the deaf characters in them authentic and real. I've been involved with the deaf culture for years and have several deaf friends, one of which I would call one of my very best friends, so just the experience of working at the deaf school provided ideas and made the stories "real".
You've said you don't put much of yourself, or other people you know into your characters; that you picture how they look to fit into your story. But how do you come up with their personality traits? Yeah, I might want to retract that statement. I try to base my characters on people I study while out in the community, someone I see on television (I'm not a reality TV junkie, but I do watch it occasionally for character ideas.) And sometimes, I just make them up, make them fit the story. I suppose I'm afraid if I put myself into my characters, they'll all start to sound the same, they won't be diverse individuals. A Silent Terror was the closest I've come to putting myself into a character.
Lynette, please tell us about A Silent Terror.
Here's the back cover blurb:
When Marianna Santino's roommate is killed, Detective Ethan O'Hara can't fathom the motive. Then he realizes the deaf teacher was the intended target. Marianna must have something the murderer desperately wants. But what? Digging for the truth, the guarded cop tries to learn everything he can about Marianna. Her world. Her family. Her beauty, faith and fierce independence. In spite of himself, Ethan finds that he can't keep his feelings at bay. Soon, he's willing to risk everything—including his heart—to lay the silent terror stalking Marianna to rest.
Is this the beginning of a new series? Yes! A Silent Terror is Book 1 in what I hope to be an ongoing series. I talked to my editor about continuing the series past three books and she said as long as I keep it fresh, it would be fine. So, I'm trying to do that. I have some really great characters in this series that I'd like to develop and get to know.
I see your first series was set in the Amazon. How did you decide to use that setting? Are you very familiar with that location? Ah, the exotic Amazon. How the setting came about was when I was sitting in the DMV holding my little paper number (five hundred something it seemed like) and I was looking around, watching all the people coming and going, listening to the little two year old next to me scream at the top of her lungs and I just thought, "this place is a jungle!" That thought sparked the idea and by the time I left the DMV, I had written the first chapter on some scrap paper I found. I've never been to the Amazon. I would LOVE to go one day as I've always been fascinated by it, but I just did a TON of research on the location and it seemed to work out. The characters actually weren't there very long and by the sixth or seventh chapter were back in the United States—with a killer after them, of course.
Where does A Silent Terror take place? In Spartanburg, SC
I've read your books with Revell will be "gritty." Can you share with us in what way? Any tidbits you can throw us? I loved writing the first book for Revell. I had to do SO MUCH research that I think I actually spent more time researching the book than it ever took to write it. In the Revell books, I write from the point of view of the killer. In the first yet to be named book, I have a serial killer who's kidnapping and murdering the town's female teenagers. My hero has a teen daughter who's not happy with her cop father and is doing her best to pull his attention from his job and put it on her. Unfortunately, she draws the attention of the killer. I let my husband read the last chapter and he said he didn't think he could sleep in the same room with me anymore! LOL. The second one in the series will be even more intense…to the point that I have to stop writing it and take a break. When I write from a character's point of view, I do my best to put myself INTO character, to see the action taking place as though I'm watching it from his/her eyes. And sometimes it gets downright creepy when I'm writing from the point of view of a killer.
One last question, Lynette: I read in another interview that you grew up in a family where every member's name started with the letter "L." Was there any rhyme or reason for that, or did it happen by chance? That's my dad for you. My dad's name is Lewis, my mother is Lou Jean. So they decided they'd keep the theme and go with Lynette (me) and Lane for my brother. We even had a dog named Lucky. LOL.
Thanks so much for taking the time to be here, today, Lynette. It's been fun! It sure has! Thank you for having me. You've certainly done your homework and these questions were just fabulous and fun to answer!
Readers, you can find Lynette Eason on the Web at www.lynetteeason.com and www.shoutlife.com/lynetteeason. She also has a blog at www.suspensewithatwist.blogspot.com.
If you'd like to win an autographed copy of A Silent Terror, use my contact page, and type "drawing" in the comments box. The deadline to enter is March 24th.