INTERVIEW WITH TESS GERRITSEN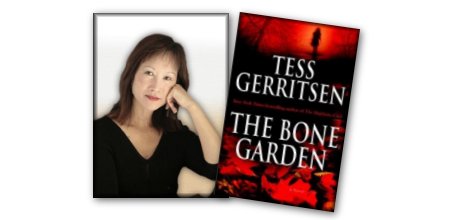 I am very excited and honored to have New York Times best selling author, Tess Gerritsen here for a chat. For those who might not know, Tess is a doctor who had taken up writing while staying at home to raise her children. I think I can speak for all of her readers when I say we're certainly glad she did. Now, on to the questions, a few of which came from some of Tess's faithful readers.
Welcome, Tess, and thank you for joining us today.
As I mentioned above, you took up writing while staying at home to raise your children. Is there a part of you that misses practicing medicine? Do you ever feel that tug to go back to it?
I've been away from medicine for so long that I no longer feel any desire to return to it. Although it was certainly emotionally rewarding, it was also grueling, demanding work with sleepless nights and weekends on-call. A writer's life is bliss by comparison.

You once wrote category romantic suspense. How easy or difficult was it for you to make the transition to mainstream suspense?
It wasn't difficult at all. The same principles of good writing that apply for romantic suspense also apply to mainstream suspense. In many ways, I find mainstream suspense easier because you aren't juggling such disparate plot threads. With romantic suspense, there has to be balance between the love and mystery elements -- one can't overwhelm the other and that's a tricky balance to maintain.

As an author, what other authors' works do you enjoy reading?
I tend to read nonfiction more than fiction these days, just because I love learning things. But when I sit down to read a novel for fun, I really enjoy Lisa Gardner and Lisa Unger. And I also like Lisa Scottoline as well. I must have something for authors named Lisa!

I know this will be a hard choice, but which of your books is your favorite?
GRAVITY. It was both a challenge and a joy to write, and I still consider it the best of my thrillers. It was quite different from my other books -- a biological thriller set aboard the International Space Station -- and it required months of research. It was also tricky in that there was no real villain in the story - just a nasty microbe. So I had to call on all my skills as a suspense author to turn it into a frightening story.

Tess, I'd love to see your books adapted to film. Have any of them been optioned?
Most of them have either been optioned or sold outright. I've just signed a deal with a TV producer who wants to make a TV series based on the Rizzoli and Isles characters.

Which one would you most like to see on film?
GRAVITY would be the most cinematic of all the stories. 20th Century Fox currently holds the feature film rights to it.

You have said that a bad title can kill a book. What about a bad cover? How much input do you have on cover art?
Absolutely, a bad cover can be fatal. I have turn-down rights to my cover art. But I'm not an artist, so sometimes it's hard for me to judge whether a cover is good or not. I can only respond to it as a consumer, and I tend to dislike brown, orange, and gray covers. Other than that, I'm open to any brilliant ideas.

I've read that you like to frighten yourself while researching certain subjects for your books. How do you distance yourself from any haunting images that are conjured up and make yourself delve deeper in order to finish the book?
By the time I've finished writing a book, whatever frights I may have given myself have lost their effect on me because I've been so immersed in the writing. It's a bit like cooking all day in the kitchen -- you lose the ability to be wowed by whatever you've prepared. The subject matter of my books is often violent and haunting, but since I so seldom show violence on the page, I'm able to keep some distance from the gory events. Most of my story tends to revolve around the investigation afterwards, after the violence has ended. When you write from the point of view of an investigator who's just doing her job, then you're able to stand back a bit and not feel quite as horrified.

Your latest release, The Bone Garden is set in two different time periods: 1830's Boston and the present. This is the first I've seen like it among your works. Was the writing process different than the rest? How did you handle it?
My interest in medical history was what drew me to write the book. I was fascinated by the disease "childbed fever", and that was what inspired me to write the story. I used the past/present structure only because so much of the science can only be appreciated in retrospect, as seen through modern eyes. Without that current-day perspective, the story is merely an historical murder mystery with gruesome medical details. But with the current-day story added, the reader understands the science, and appreciates the enormous contributions made by the character Oliver Wendell Holmes, whose discoveries were only acknowledged decades later.

Is any part of The Bone Garden based on actual events?
Oliver Wendell Holmes was a real character, and in 1830, the year I set the story, he was indeed a first-year medical student at Boston Medical College. Numerous real historical figures appear in the story, sometimes only in cameos, such as Reverend Channing (founder of the Unitarian Church). But the murder mystery was pure fiction.

Tess, is there anything else you'd like us to know about The Bone Garden?
It's a glimpse into common medical practices of the early 1800's, an era before anesthesia, when doctors spread contagion and surgery was done without anesthesia. It was a bloody, dangerous, excruciatingly painful time to be a patient. Anyone who reads the book will surely come away thankful to be alive today, and not then!
One more question. For the writers out there who are reading this, are there any particular reference and craft books or workshops you recommend to those who want to break into the suspense/mystery genres?
The most valuable book I ever read as a beginning writer was Lawrence Block's TELLING LIES FOR FUN AND PROFIT. I still consider it one of the best, and a true how-to classic.

Thank you, Tess for being here. I've totally enjoyed chatting with you and wish you continued success with your books.
To enter the drawing to win Tess's bestseller, The Surgeon, please use the form on the Contact page and type "Drawing" in the comments box. The deadline to enter is March 24th, 6:00 pm EST.
If you'd like to learn more about Tess Gerritsen and her books, visit her Web site at www.tessgerritsen.com.