This month I'm chatting with author, Danele Rotharmel, about her newly released book, Time Tsunami, the first in her series, Time Counselor Chronicles. Welcome, Danele!
Thank you, Deborah!! I'm thrilled to be here!
To start with, Danele, I just want to let everyone know what an amazing and courageous woman you are. With everything you have been through, and are still going through, you have managed to come out on top. Yay for you!
Wow! Thank you! Your kind words and encouragement mean so much to me, Deborah! You're an incredible person, and I feel very blessed to know you.
What inspires you to write, Danele?
I've always loved to write, but when I became ill, I struggled with partial amnesia and hallucinations. The creative side of my brain just shriveled up and stopped working. I couldn't write a story to save my life—all my words fell flat. When I started regaining my health, my ability to write was restored. I was so excited! I spent hours penning my stories—sometimes I would even forget to eat or sleep. I used writing as a way to distract myself from physical pain and to explore the questions I had about my faith. In a very real way, I "wrote" my way back to God and back to health.
What are some day jobs that you have had, and if any impacted your writing please share an example?
I've had several jobs down through the years—both paid and unpaid. I've been a substitute teacher, a church secretary, a camp counselor, and an administrator of a food bank. On my parents' farm I drove a tractor, irrigated crops, fed calves, and milked cows. My farming background creeps into my writing in soft, sneaky ways. If you look closely enough, a "farm-life" philosophy definitely comes through. You see, on the farm I learned that hard work is a reward in itself. I also learned that determination can see you through just about anything. Those two philosophies are paramount in my characters.
I've read that you dug out a short story you'd written in college and fashioned your novel from that. Will you share a little background about the story, your desire to write, etc.?
When I was taking a college creative writing class, I was also working as a cadet teacher in a local middle school. One day, I broke up a fight between two boys. When I talked with them, I wasn't sure I was making a dent. I wished I could do more. Around that time, I received a creative writing assignment from my professor. Somehow, my desire to help those students morphed into Time Tsunami. There was something very appealing about being able to travel back through time and warn kids about the dangerous path they were taking. For quite a while, my short story consumed my thinking. One day, I drove down a street and saw a boy riding a bike—he looked exactly how I'd envisioned Danny. After that, I began seeing my characters everywhere. I got a glimpse of a woman resembling Gil in the grocery store, and I saw William pumping gas. My story was defiantly on my brain all the time. I seriously thought about transforming Time Tsunami into a novel, but life has a way of pushing a person forward. My schedule was full, and eventually, I relegated Time Tsunami to a cardboard box. I fished it out again when I was in quarantine.
Why did you choose to write in this particular genre?
When I was battling my illness, I thumbed through a whole box of my old stories. Many of them held promise, but Time Tsunami was the one that really spoke to me. You see, a faulty furnace in my home had poisoned me with carbon monoxide, and the poisoning had triggered extreme Multiple Chemical Sensitivity. My condition continued to deteriorate, and eventually, I was quarantined in my home—a situation that lasted for seven years. I suppose time travel was an appealing idea because I kept wishing that I could travel back through time and warn my younger-self to buy a carbon monoxide detector. The purchase of a $35 detector would have saved me a decade of extreme physical pain, loneliness, and heartache. Time Tsunami also appealed to me because the characters were battling against a serial killer. I was facing my own form of serial killer with Multiple Chemical Sensitivity. MCS is a hideous condition, and many people die from cancer when they come down with it. I was fighting against my serial killer just like my characters were fighting against theirs. Every time one of them struck a blow against Rick—I cheered.
How does your book relate to your love for God?
Before I became ill, I tried very hard to live a good Christian life. I loved God and did my best to serve Him. That's why I felt so betrayed when I was put into quarantine. I expected God to keep me from harm, but instead my entire life was destroyed. I had to quit my job, stop all social activity, and give up my car keys. I had partial amnesia and was experiencing extreme mental confusion. I felt like God had yanked the rug right out from under me. I began to wonder if He really loved me. I also began to wonder if He liked to see me suffer. During my time in quarantine, I reanalyzed my faith in God. For months at a time, I would look at one single question of faith and decide what I believed in light of my illness. Eventually, I came to the conclusion that God is real, God is good, God is intimately concerned with every moment of my life, Jesus must be kept in the center of my faith, and God is trustworthy in spite of tragedy. I rededicated my life to Christ—not naively, but in the knowledge that bad things can—and do—happen. I've learned that living a Christian life doesn't mean you won't have problems—it means that God will see you through those problems.
I've taken the spiritual lessons I've learned and incorporated them into my stories. For instance, in Time Tsunami, Sam and Sue discuss "walking through the why" when bad things happen. That passage was taken directly from my life. When I was angry and confused, I filled a whole sheet of paper with the word "why." After I had written it multiple times, I had an answer—and I share that answer in Time Tsunami.
When I first became ill, I yelled at God, I doubted Him—I even denied Him. Now I want to spend the rest of my life praising God and declaring that He is faithful—regardless of illness, regardless of heartache, regardless of EVERYTHING!
Danele, I realize you were under quarantine when you wrote this series of books, but were you in contact with anyone in particular who helped you in your research?
Other than my doctors, my mother and father were the only people with whom I had physical contact. For seven years, my parents voluntarily lived a "quarantine-safe" lifestyle so I could be in the same room with them. I couldn't be around anyone else—the closest form of contact I had was speaking to people through a closed window. My nephews grew up knowing me as "the auntie behind the glass." I conducted all of my research through the internet, but my mother and father spent quite a bit of time proofreading my books. They were very supportive. I'm out of full quarantine now, but I still have to be careful. I can't go to church yet—too much perfume—but I'm able to go to the supermarket. Sometimes I have to scuttle quickly down the aisle if someone approaches wearing perfume, but at least I'm able to get out of the house. I love my new freedom!
Please give us an interesting fun fact about your book/series.
I'm a terrible klutz, and some of Crystal Stuart's clumsiest moments are based on things that have actually happened to me. I've been pinned beneath a door by my hair (Time Search--Book 3), I've been trapped behind a dryer by my arm (Time Awakening--Book 4), and I've even dropped a curling iron into my eye (Time Nightmare--Book 6). Crystal was a hoot to create. I giggled my way through most of her scenes.
What do you like to read in your spare time?
Currently, I've been working my way through Prism Book Group's vast catalogue of titles. I've been having so much fun! Prism has westerns, historical romances, suspense novels, young adult books, science fiction—you name it—they've got it. I've been having a great time! What makes it even more enjoyable is that I've come to know most of the authors. I chat with them online, and it's a blast picking up a book and knowing the person behind the "author bio."
How can readers find out more about you and your books?
Last fall, I started a blog called dragonflydanele and every week I write a new journal article. In my articles, I'm very open about my struggles and victories. Reading my blog will give people a pretty good idea of who I am. https://dragonflydanele.wordpress.com/welcome/
Time Tsunami, the first book in The Time Counselor Chronicles was published by Prism Book Group in January. Prism has an entire page dedicated to my book. The page contains purchasing links, a back cover blurb, an excerpt, and my author biography.
http://www.prismbookgroup.com/timetsunami.html
Is there anything else you'd like to say?
Life can be extremely confusing at times. Life can be very scary. When I became ill, I thought my life was over. But instead, I learned that nothing stays bad forever. Quarantine was hard, but it came to an end. They key to survival is putting one foot in front of the other. The key is never to give up. My second year of quarantine, I thought I was going to fall apart, but I made it through. And quarantine ended up being the first chapter in the adventure of a lifetime. You see, God used quarantine as a way for me to write my books. I had my life planned out, but God had something even better in mind—he wanted me to be an author. I don't understand why things happen the way they do, but I've learned that God can transform even the most horrible circumstances into something beautiful if we let Him. If you're hurting today, don't give up. NEVER give up. Something wonderful is just around the corner.
Danele, thank you for allowing me to host you on my website! It's been a pleasure and I wish you many blessings with Time Tsunami and the rest of your books in the Time Counselor Chronicles series. I hope to have you back for each volume!
Thank you so much, Deborah! It's been such an honor to be here today! I really enjoyed answering your questions, and I would truly love to visit with you and your readers again. Thank you!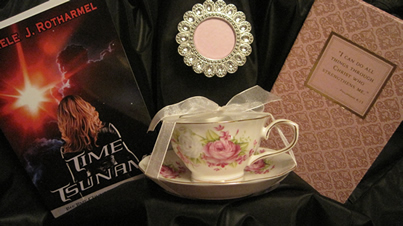 If you'd like to win Danele's prize package, which includes a copy of Time Tsunami, please use the Contact page and type "drawing" in the comments box. Below you will find a photo of the items included in the package.The deadline to enter the giveaway is February 24th.