AN INTERVIEW WITH LYNETTE EASON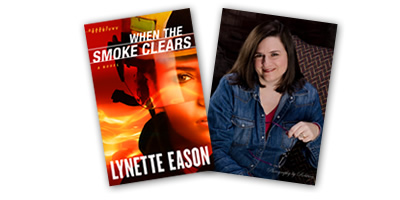 This month, I'm chatting with Lynette Eason, romantic suspense author, whose work I've always enjoyed and admired.
Welcome, Lynette! I'm pleased to have you back for a visit.
Glad to be back, thanks!
Your bio on your website states you accepted Christ at eight-years-old, and that, even at that age, you knew you wanted your life to reflect the love of Jesus. How did you go about doing that at such a young age? What were some things you did, specifically?
Oh wow. You're asking me to remember back a LONG time. I suppose I tried to tell my friends about Him at that age. Then as I grew older, I didn't participate in a lot of the junk pre-teens and teens involve themselves in. In college I was a member of Campus Crusade for Christ and went on mission trips instead of drinking binges. I was in a sorority and I did go to the parties, but I didn't drink so got to tell my "sisters" why. ☺Those kinds of things.
Over the last ten years, you've taught in many areas of education. What do you teach at writer's conferences?
I teach on a variety of writing topics. Mostly how to write suspense, how to write amidst the chaos of your home, how to start writing (basics), etc. Anything about writing fiction.
On your website, you say that writing the first part of the book is always the hardest for you. Will you share with us why that is?
I suppose because I'm so paranoid about starting it in the right place. I'm afraid if I start it in the wrong place with the wrong scene, the whole book will be off. And also, if it's a new book in a new series, I don't really know my characters that well and it takes some
getting into the story to really get a handle on them.
Lynette, tell us about When the Smoke Clears.
Here's the back cover blurb: As a member of the North Cascades Smokejumpers, Alexia Allen always takes care of the equipment that keeps her safe. So when she nearly dies in a fire due to equipment failure, she knows something is up. Ordered to take time off while the investigation continues, Alexia makes a last-minute decision to recuperate at her mother's home and attend her high school reunion. Yet trouble seems to be following her, and within hours of arriving home she's involved with murder, arson--and a handsome detective. But the conflicts ahead are nothing compared to the ghosts of her past. As she strives to remember and forgive her family history, she must also decide if the secret she's been guarding for the last ten years must finally come to light.

Chock-full of the suspense and romantic tension readers have come to expect from Lynette Eason, When the Smoke Clears is the explosive first book in the Deadly Reunions series.
Why did you choose to write this story?
The smoke jumping career fascinated me. I did tons of research on it, but then didn't use a whole lot in the story. It was kind of funny the way the story turned out.
How did you research about smoke jumpers? Did you speak with those who actually do it, or did you get to see them work first hand?
I read a lot online. I didn't get to speak with a smoke jumper. I wanted to, but it didn't work out. I did speak with a retired fire chief who filled me in on a LOT of the fire stuff. I also have a fireman friend on a crime scene loop who answered a lot of my fire fighting questions.
What can you tell us about smoke jumpers that we won't find in your book?
A LOT, but I suppose the one thing that surprised me is that you don't have to be a firefighter first to become a smoke jumper although a lot do. And vice versa. The training is different, a lot of the equipment is different, etc. I found that really interesting.
Please tell us where readers can find information on you and your books.
I would love for readers to visit my website at www.lynetteeason.com. They can also sign up for my newsletter there. I also have a blog that gets some attention about once a week. That's www.infinitesuspensefromlynetteeason.blogspot.com. Readers can friend me on facebook, too. http://www.facebook.com/lynette.eason
Thanks so much for taking the time to stop by, Lynette. It's been a pleasure to have you back.
It's been a pleasure being here. Thanks so much!
If you would like to win a signed copy of Lynette's novel, When the Smoke Clears, use my "Contact" page and type "drawing" in the comments box. The deadline to enter is February 24th.