AN INTERVIEW WITH SHAWNA K. WILLIAMS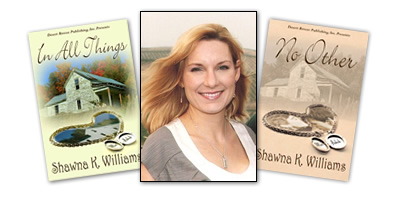 Shawna K. Williams is here to visit, this time. She is the author of the e-books, No Other and In All Things, a sequel, both published by Desert Breeze.
Welcome, Shawna, I'm so pleased to have you as a guest!
I read the story of why you named your blog "My Father's Oldsmobile." I know you say over the years you've become quite comfortable with equating yourself with that type of car, but at the time you acquired that comparison, what other type of car had you envisioned yourself to be?
I don't really know. That conversation came up as something silly to pass the time. I'd never really thought about the subject before. I was hoping for something a little snazzier though, at the time. I mean, Oldsmobiles in 1990 weren't exactly eye catching, and when you're young and thrown into the college dating scene, you kind of want to be eye catching. Maturity has given me a much different perspective.
Your Web site bio states you like to take pictures of old dilapidated houses and buildings. Is the house on the cover of No Other and In All Things one of yours?
It's not. Jenifer Raneiri, the cover artist for No Other, found that photo. It's exactly like the house I envisioned in the story, right down to the roofline. The house on my website is one of mine. I love old homes. I collect old letters, too. I like to ponder about the people who lived in the houses, or wrote the letters. I find inspiration in doing so, and in a small way, I feel like I'm carrying on something of those people through my writing.
Shawna, when and how did you begin writing?
I've always had a knack for it, but I never intended to be a writer. It wasn't something I thought about or secretly dreamt of or anything. It was just something I had been good at in school.

Then, in my early 30s I had this very cool dream. To this day I've not had a dream like it. This dream felt real, in that I experienced the characters emotion, but I watched most of the dream as if it were a play. It was in scenes, and for six months afterwards I thought about it obsessively, trying to work out scenarios for how it all fit together. Eventually it became too much and I had to start writing. This was just to satisfy my own curiosity at first, but as I grew to love the characters and their journey, I also fell in love with story telling. And that's how I became a writer.
Will you share a little about both No Other and In All Things, since they're an ongoing story of the same characters?
No Other takes place in 1947, a couple of years after WWII when the country was still in a state of recovery.
As Jakob, the American born son of German Immigrants, tries to resume his life from wartime interruption (his family's internment) he finds himself in an odd predicament. He must go back to high school, and one of his teachers is a girl he used to go to school with. She's also the daughter of one of the wealthiest most powerful families in town.
Meri looks like a child of privilege, but in her world things are just a tool used for control. So is love. Meri enjoys the things, but they aren't what she craves. She wants love. She just has no idea what love is, until she meets Jakob.
Their situation is complicated by the fact that Meri is Jakob's teacher. She also isn't a Christian, but she is curious. Jakob sees her need and starts their friendship with the intention of teaching Meri about God. As his feelings deepen though, and he learns more about the control her family exerts over her, fear takes root, and Jakob chooses to pursue a secret romance with Meri, tuning out the council of the Holy Spirit, and leaving himself open to further temptation.
When Jakob crosses a line he never imagined, he's faced with the consequence of his choices, not only to himself but to Meri. He must surrender himself to God if he wants to make things right.
In All Things picks up ten years later. At the end of No Other Jakob had done pretty good at surrendering himself to God, except for one tiny thing: a promise that started with good intentions but later becomes a source of pride. Jakob wants to show the person he made the promise to, his rival, that he lived up to expectations, even surpassed them.
Meri wants to please Jakob. His determination to make her dreams happen becomes her determination to make him proud. For him to succeed, she must also. So both push relentlessly to make this so, believing they are doing it for the other person. But as this becomes their focus they lose sight of what's truly important.
In All Things explores some of the unexpected consequences from the path Jakob and Meri started ten years early, including how it affected their families.
The first half of the story deconstructs a lot of the things about Meri and Jakob's relationship so they can be built back right. Jakob has to learn that he can't be everything to Meri. He has to step out of the way so God can heal her pain that Jakob couldn't, but it has to be Meri's choice to let Him.
Why did you choose to set them in the post WWII era and beyond?
I've mentioned often that these two stories are based on the dream that started my writing journey. The time frame was something from the dream. In the dream, the era was more of a feeling, but as I wrote and researched it got nailed down to an actual time frame.
Who are some of your favorite authors?
Some of my favorite Christian Authors are Francine Rivers, Liz Curtis Higgs and Deanne Gist.
Have any of them had an influence on your own writing?
Francine Rivers! That's not to say that I write like her. I only wish! She was just the first author of Christian fiction that really moved me on a spiritual level. I felt like I gained something beautiful with each book of hers I read. It was through her writing that I became convinced Christian fiction can be a ministry.
Shawna, please tell us where you can be found on the Internet.
My wedsite:
http://shawnakwilliams.com/
My blog:
http://shawnawilliams-oldsmobile.blogspot.com/
Twitter:
http://twitter.com/#!/shawnakwilliams
My Facebook page:
http://www.facebook.com/#!/pages/Shawna-K-Williams/236629884245
On your Web site, there's a picture of you on a horse. As a self-professed animal-lover, how many pets do you have, and will you tell us what they are?
Lol! Well, we live on a ranch, so we've got the whole shebang: horses (both big and miniature), cattle, goats, rabbits, cats and a varied assortment of dogs. We've had chickens, guineas, ducks, pigs, and donkeys too, but we don't anymore. We do, however, have a guinea pig. His name is Oscar.
Thanks so much for allowing me to interview you, Shawna! It was a pleasure to have you here on my Web site.
If you'd like to win a copy of Shawna's e-book, In All Things, just use my Contact page and type "drawing" in the comments box. The deadline to enter is February 24th.