AN INTERVIEW WITH MIRALEE FERRELL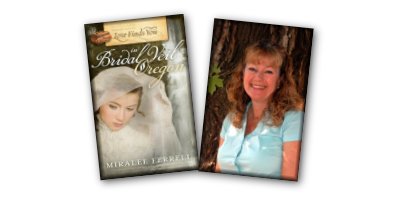 Miralee Ferrell is back for a chat this month. Her second book with Summerside Press is Love Finds You in Bridal Veil, Oregon.
Welcome back, Miralee!
Thank you, I'm always happy to chat with your readers.
So you've written two "Love Finds You" books, so far. A lot of authors set their novels in locations where they live, or are very familiar with. Did the publisher assign Bridal Veil to you, or did you choose it yourself?
It was on the list of available towns when I did some brainstorming with the editor. I had a story line that I felt might fit, as Bridal Veil no longer exists, and my editor agreed. I only live about 40 miles from Bridal Veil and jumped at the chance to write a story in a nearby setting.
How much did you know about Bridal Veil before you began writing the book?
Not a lot, other than it was a logging and sawmill town located in the Columbia River Gorge, just east of Portland, Oregon. I'd driven by it dozens of times when traveling to Portland, but it was demolished over ten years ago. I'd never spent any time in the very small community, as the freeway bypassed it and I had no reason to visit. I certainly wish now that I had! After contracting the book my husband and I spent a couple of hours there with a local historian who showed us where the houses, store, train depot and more, were located, and took a lot of pictures. I returned again later on my own to explore a bit more, and spent some time at the base of Bridal Veil Falls.
Does basing your story on a preconceived setting restrict you in any way?
Not at all. I didn't have a full story line, and I never do. When I start a book I have only a sketchy idea of what's going to happen. I actually have enjoyed setting it in a specific area, as I've been able to research the setting, historical events, people who lived there and what the area was really like at the time. It adds depth to the book in a way that setting a story in a totally fictional town can't do.
You took the breathtaking photo of Bridal Veil Falls on the back cover of the book, which obviously means you visited the area. Do you visit the locations of all your novels?
I have so far, and hope to continue to do so. My husband and I flew into Sacramento two years ago and researched the Last Chance, CA area up in the Sierra Nevada Mtns. I felt that trip and what I learned brought the story alive for my readers. My two contemporary books are set in the area where I live, which made writing the setting easy, and of course, Bridal Veil is close by. I'm working on one set in Wyoming now, and another in Arizona, and will visit whichever one comes under contract first.
Can you describe what it looks like now?
It's mostly a treed area along the banks of the Columbia River. The waterfall is on the west end of where the town used to be, and set back a few hundred yards from the river, with a beautiful tree-shaded, rock-strewn stream meandering down to the river. There is still a Post Office there, the 2nd smallest in the U.S., that hand cancels every stamp with a special postmark, and thousands of wedding invitations are sent from there each year. A small community church and a few homes are on the far eastern edge of what used to be the town, but no businesses, and very few houses still exist. The entire town area, and homes dotting the hillside going back up the mountain were torn down, as was the awesome log flume wending its way down the mountainside from the small town of Palmer above. Palmer was destroyed in a fire in the 1930's and was never rebuilt.
Miralee, please share with us what Love Finds You in Bridal Veil, Oregon is about.
Sixteen-year-old Margaret Garvey promised her heart to Nathaniel Cooper the night he disappeared from town. Four years later, just as she's giving love a second chance with Andrew, a handsome logger, Nathaniel suddenly returns to town with a devastating secret. Margaret risks her reputation and position by harboring two troubled runaways who might be involved in the murder of a local man. As disaster strikes the town and threatens the welfare of its citizens, Margaret will be faced with the most important choice of her life.
Your dedication in the book mentions a three-sentence brainstorming suggestion by Stephen Bly, which led to this storyline. Are you able to expound on that?
Yes, I'd love to give credit where it's due. After writing my first book, The Other Daughter, I was struggling with finding a new story line. I visited a live author chat where Stephen Bly was the guest. I asked how he comes up with new book ideas and he asked me what I enjoyed doing other than writing, and I replied, working in my flower garden. He told me to imagine digging a hole to plant a new rose bush, and my spade hits a hard object. On closer examination I find a small box, open it, and discover a paper inside with only one word….Yes. He asked if that would stir any ideas that could become a story, and my mind started racing. The opening scene sets up the book with something similar happening, only in reverse. You'll have to read it to see what I mean, but the Bridal Veil book was birthed from that conversation.
What can we expect from you next, Miralee?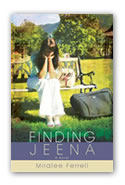 Finding Jeena, the sequel to The Other Daughter, my debut women's contemporary, releases in late April of this year. I'm very excited about taking my readers back to my original book where they can discover the answer to why Jeena (a friend of our heroine, Susanne) was crying when she bumped into Susanne near the end of the book. I got a lot of comments about Jeena from readers who said they wanted to shake her, slap her, pray for her salvation, etc…but all were stirred emotionally in some way by her very strong personality. I think people will enjoy seeing what happens to Jeena in her own journey and how the Lord brings her to a place she's needed to be, her entire life.
Where can readers find you on the internet?
Several places. I'm very active on Facebook and you just need to put my name, Miralee Ferrell, into the search engine, then send me a friend request. I also have Miralee Ferrell's Readers Group on FB where we talk about books…not just mine, but fiction in general, and you can often find me giving away one of my books there, as well. Also, Shoutlife (but I'm not super active there anymore), and most important, my blog and web site. Here are the addresses for those:
www.miraleesdesk.blogspot.com
www.miraleeferrell.com
A double last question, Miralee. What was your favorite thing about writing this novel? Least favorite?
My favorite thing on any book is seeing where my characters will lead me as they grow and develop. I'm never quite sure what will happen in a story until it's been written, LOL!
My least favorite? Trying to figure out what's going to happen when my characters refuse to give me a clue of what needs to come next. I enjoy most aspects of writing, from marketing to editing to promoting to the actual writing….but I do hate getting stuck with no idea where to go next. I typically shelve it for a few days and let my brain work on it at nighttime, as that's some of my most productive times for new ideas.
Thank you so much for stopping by, Miralee. As usual, it's been fun!
For me, too! I love chatting with you and hope your readers will find me on Facebook or leave a comment on my blog. I love hearing from them.
If you'd like to win an autographed copy of Love Finds You in Bridal Veil, Oregon, use my contact page, and type "drawing" in the comments box. The deadline to enter is February 24th.