AN INTERVIEW WITH LINORE ROSE BURKARD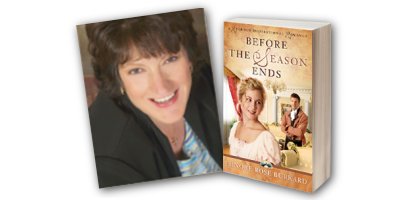 This month, we're chatting with Linore Rose Burkard about her debut novel, Before the Season Ends. Linore is the creator of "Inspirational Romance for the Jane Austen Soul." Her stories blend Christian faith and romance with well-researched details from the Regency period.
Welcome, Linore, I'm so glad you could visit with us!
You have a lovely site, glad to be here, Deborah.
Publisher's Weekly made the comment that your novels even help non-Regencyphiles learn the difference between ladies' pelisses and spencers. For those of us who don't know, could you explain those differences to us, and perhaps give us a little taste of other things of interest we can find in Before the Season Ends?
Publisher's Weekly was referring to the glossary in the back-quite unusual for fiction. It's perfect for the reader who may be new to the Regency romance. Since you asked, a pelisse is a long, sometimes ankle-length outer garment, a light coat, which could be hooded, or not. A spencer is the short jacket that ladies wore over their empire-style gowns. It reached only just under the bust, and had long sleeves. There were also spencers for men.

For the costumes, I know reference books give many details, such as fabric, trim, colors, etc. Was it difficult to put it all together to describe a particular dress, for instance? Were there pictures you could look at to describe things?
I do like to find pictures of regency costume; I usually pick and choose different pieces of an outfit from different sources, or at least different pages of a single source, so that I'm not just copying. I'll pick a bonnet from one book, a gown from another, and then the same goes for the colors of each, and I might change something about their style. I only do this when I'm giving a really good look for the readers' sake at an outfit.
Has your extensive research of the Regency era ever made you want to live in that period?
Actually, no. I'd love to visit for a day or two, but I wouldn't want to live there or then. Any historical researcher is going to unearth some less "savoury" facts about their era. I just finished a new subscriber download, in fact, that highlights some of this. (Called, Myths and Mysteries of the Regency. Anyone who signs up for my newsletter gets the download. If you're already subscribed, you'll get the link for it in my next newsletter.) Anyway, I believe there has never been a better time to be alive than right now. For all the faults of modern technology, there has never been better health care, and certainly never so large a middle class, than now. Maybe I'm just spoiled by all the "creature comforts." I would love to see society regain some of its lost modesty, but even during the regency people expressed the same lament!
What books have you read recently that affected your life, and in what way?
Shopping for Time, was a great impetus for me in getting my quiet time back as a habit. "The Christ in Christmas," by Calvin Miller was a wonderful "reconnect" for me to the Lord during such a busy time.
What's a typical day like for Linore Rose Burkard?
Well, I start the day with my morning coffee—every single day. After I have my first cup of coffee, behaving as though there is nothing else for me to do, I read my devotional and Bible and pray. After that, I open my laptop and start on tasks I need to finish. I try not to open email until I accomplish an important task. Oh, I also review the list I made the night before, of my "to dos."I try to start on things immediately that I can check off quickly. (Defrost meat for dinner, package a book to mail, make an appointment for a family member, etc.). All day long, I work off my list, balancing writing and online tasks with home and interruptions by children and other family business. So each day can be very different depending on what I have to do. And before I go to sleep each night, I make the following day's list.
Linore, please tell us about Before the Season Ends.
Before the Season Ends is part Pygmalion, part Pride and Prejudice, and part Gigi. <g>
The story takes readers on a mini-vacation to Regency England, where they'll feel what its like to live and love at the time. It's a romance to make you sigh, with humor and excitement and a happy ending that leaves you smiling—and wanting more. (Good thing I wrote the sequel! Called, The House in Grosvenor Square, it will be available in April.)
Do you have a specific technique for tapping into the emotions you need to convey in any given scene?
All I can say for that is one word: Concentration. Putting myself in the shoes of the character I'm writing and feeling their feelings.
Is there anything else you'd like us to know about Before the Season Ends?
BTSE differs from most regencies in that it has a strong faith element. The heroine is faced with a dilemma, more than once, but she never loses track of her greatest priorities. Some call it a traditional, or "sweet," regency, but it's actually a new sub-genre, that of the "inspirational" regency.
Where can readers find you on the net?
At my brand new website, LinoreRoseBurkard.com.
And my books are available in bookstores, from online booksellers like Amazon and Christianbook.com, and from Harvest House Publishers. Autographed copies can be ordered from my website.
One last question, Linore. If there were to be a film version of your novel, I'd be interested to see who'd play your lead characters. Who would you like to see in those roles?
Interesting you asked this, because I just answered this for two other blogs, but I've changed my answer a little, after some thought. Johnny Depp is hands down my favorite male actor, so I said he'd be perfect for the part of Mr. Mornay, and he would; but I realized, with some surprise, that Gerard Butler would probably also be a really good fit. And for Ariana I could see Rosamund Pike very easily.
While reading your novel, I felt your writing to be a modernized version of Jane Austen's, and I commend you on your authenticity. Jane lived it, but you had to do tons of research!
Most researching is fun, until you find that you need a little nugget of knowledge that is really hard to track down.
Thank you so much for your time, Linore, it was a pleasure having you!
I loved being here, thanks so much.
To enter the drawing for an autographed copy of Linore's book, just use my contact page and type "drawing" in the comments box. Linore needs at least 10 people to enter in order to hold the drawing, so ask all your friends to sign up, too! The deadline is February 24th.