INTERVIEW WITH JENNIFER ALLEE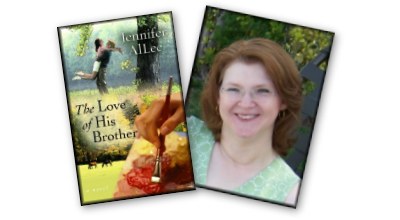 Jennifer AlLee is a first-time novelist (The Love of His Brother), but not new to the writing world. She has been writing ever since she was a young girl, and was later told by a college professor that she would be published often.
Welcome, Jennifer, we're glad to have you with us today.
Thank you. It's great to be here!
Jennifer, I've read that you came from a family steeped in the arts. Have you inherited any non-writing talents from some of them?
My grandmother was a professional dancer. I grew up looking at photo albums of her in costume and on the stage. I inherited a love of dance and a very good sense of rhythm from her. If I hadn't been diagnosed with juvenile rheumatoid arthritis at the age of 10, I would have followed in her footsteps. Acting's kind of in my blood, too. I've done quite a bit of theatre work… not professionally, but community and church theatre. I love it!
You have been writing for years, but in other areas, such as, short stories, devotionals and plays. What made you decide to write a novel, at this time?
Writing a novel was the dream of my heart since I was a teenager. In fact, I wrote a complete novel in high school, then wrote another in college. The first was not very good, but the second I sent to Harlequin, unsolicited. One of the editors sent back a very nice, personal rejection letter. Rather than realize what an honor that was, I became discouraged and put the dream aside. But I always kept writing. No matter what job I had, somehow writing always became a part of it. Finally, my husband strongly encouraged me to finish the book I always talked about writing. And here I am today!
Describe a typical day in the life of Jennifer AlLee, the author.
Usually, I'm up around 8:00 AM. I grab an Atkins bar and a big glass of water, power up the computer and check emails. Then I get down to writing. If I'm working on a new project, I try to write at least 1000 words a day. Right now, I'm going over the second draft of my next book, fixing things, pumping things up, making sure the heroine's eye color doesn't change from one chapter to the next, that kind of thing. I spend the rest of the day balancing regular wife/mom stuff with updating my blog, more writing, reading, and more email checking.
What do you like to do when you're not writing?
I love to read. My son and I enjoy games like Scrabble and Boggle. And I love movies, although I don't have nearly as much time to go see them as I used to.
I always find it interesting to know the favorite authors of my fellow-writers. Who are your favorites, Jennifer?
My childhood influences were Walter Farley (the Black Stallion books) and Lois Duncan. Two very different authors, but each so talented in their own styles. As an adult, I discovered romance novels when I picked up Twice Loved by LaVyrle Spencer. I still consider her one of the most talented writers ever. I read every one of her books, and selfishly wish she hadn't retired! Now, I read mostly CBA books. Leanna Ellis is incredible, as is Deeanne Gist, Tosca Lee, Sharon Hinck, and Deborah Raney. I also enjoy ABA authors Michael Crichton, Elizabeth Berg, Pamela Morsi and Susan Wiggs.
In developing the plot for The Love of His Brother, was there anything in particular that moved you to choose a story about a man who loves his brother's widow?
This is the funny thing about writing. When I originally came up with the idea, time travel romances and gals making it in the big city were popular themes. So I wanted to do something completely different. I'd never read a book where the widowed heroine fell in love with her brother-in-law, so I thought that would be interesting. It certainly lends itself to dramatic tension! I set the book in Montana because I wanted the story to take place in the country, and that's the only place I'd ever been other than my native southern California. At the time, I thought I had a completely unique and original idea. Now, I've seen lots of books featuring widows, and lots of books set in the country. I guess there really is nothing new under the sun… just a new takes on enduring themes!
Jennifer, can you share with us a little about the book?
It's the story of Whitney Poulten, a young widow determined to grab hold of what's still good in her life: her family, her faith, and her unborn child. But she never expected Doug to come back.
After leaving home years earlier without even a proper goodbye to his family, Doug Poulten's welcome is anything but warm. But he longs to make things right with his family. When he learns his brother is dead, he turns his attention to taking care of his sister-in-law, Whitney. The last thing either of them expects is for brotherly love to turn into something much more intense… and complicated.
Is there anything else you would like us to know about The Love of His Brother?
Even though it's an inspirational adult novel, it seems to strike a chord with teens. There are four teenage characters who show up in the last third of the book. When I say they "show up" it's because I hadn't planned these characters at all. It was one of those moments when the story takes off on its own, and you know God's in control. They ended up being crucial characters and lots of fun to write.
Last question, Jennifer. Your bio mentions you were born on the same day as Michael Landon, Jr. Have you heard stories growing up about relatives who met or got an autograph from Michael Landon, Sr. while visiting you at the hospital?
None of my relatives asked for Michael Landon, Sr.'s autograph, thank goodness! Everyone deserves privacy in a hospital, after all. But my Aunt Karen nearly hyperventilated when she realized she was standing next to him in front of the nursery viewing window. To hear my mom tell the story, Michael Jr. and I were in bassinets right next to each other. I don't know if that part's true (you know how stories like that change over the years) but he and I were in the nursery together. And no, we didn't keep in touch. HA!
Jennifer, thank you so much for joining us today. I've enjoyed speaking with you, and I'm sure readers and visitors were delighted to learn about you and your book.
Thanks so much, Deborah. It was great fun!
To win an autographed copy of Jennifer's book, For the Love of His Brother, fill out the form on my contact page and type "drawing" in the comments box. The deadline to enter is February 24th. The drawing will be held on February 25th and the winner will be announced when this Web site is updated around March 1st.
If you'd like to know more about Jennifer AlLee and her writing, please visit
www.jenniferallee.com.