AN INTERVIEW WITH SHERRI WILSON JOHNSON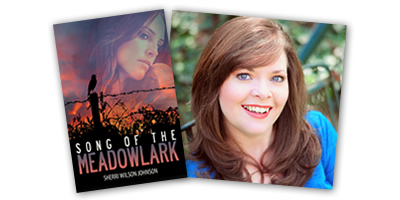 I'm chatting with Sherri Wilson Johnson, author of Song of the Meadowlark this month. Welcome, Sherri, I'm pleased to host you on my website.
Thank you for having me today on your blog! I'm excited about getting to know some new readers.
I read on your website that you're passionate about sexual integrity, and that you taught about it with your pastor in August, 2012. What about this subject fires up your passion?
I have been married for almost twenty-five years. In those twenty-five years, we've seen many friends experience failed marriages due to infidelity. We have two children who we raised to value their purity and to save it for the spouse God has for them. I've worked with the youth ministry at church on and off for ten years and seen the devastation that comes when kids choose not to wait. And more recently I've become aware of the sex trafficking industry that plagues our world. These young people are trapped and do not have a choice in keeping their purity. All of these things combined, plus knowing the Lord commands us to value our purity and to stay faithful to the one we marry, makes me passionate about doing whatever I can do to help others see the value in having sexual integrity whether they are single or married. Right now, writing Christian Romance is one way I accomplish that mission.
You've said you long to go skydiving, one day. Would you go tandem or solo?
Oh, I am sure I would have to go solo because no one in my family and none of my friends are interested in doing it AT ALL! They think I'm crazy for even thinking of it.
For that story you wrote as an entrance exam for a children's writing institute, can you remember the title, and what it was about?
Yes, it was called Oliver's Travels and it was a story of a goldfish traveling from the pet store to the home where he would live. He had a girlfriend named Gloria. Now when I think about the story, I realize that it could never have been a series or anything other than a short story because how many travels could a goldfish have?
Sherri, please share a brief synopsis of Song of the Meadowlark.
Song of the Meadowlark is a Contemporary Inspirational Romance full of hope, forgiveness, and second chances at life and love set in South Georgia on a ranch with an ornery cowboy.
When trusting others only leads to pain and rejection, and loving ends only in loss, what will it take to restore hope again? Shunned by the uncovered truth about her missing husband's secret life, Cora Buchanan sets out on a road trip for home to mend her broken relationship with her parents. When her car breaks down, she's stranded in a small Georgia town. While staying at the struggling Southern Hope Ranch, she meets little Susie O'Reilly, who unexpectedly fills a void in Cora's heart. But Rex, Susie's rugged cowboy father who lost his wife a year earlier, seems to go out of his way to either confront or avoid Cora. It doesn't help her comfort level that the news continues to report missing and murdered women in the area. Cora has no idea just how close to home the crimes will hit…or how much the sweet sound of the meadowlark's song at the ranch will impact her future.
Sneak peek at the first chapter! http://sherriwilsonjohnson.com/sherris-books/song-of-the-meadowlark/
Is there a special reason you chose to write this story?
I don't think I actually chose to write the story. I had always wanted to write a cowboy story but wasn't sure I could do it because I'm afraid of horses. I thought it might be kind of foreign to me and that my readers would pick up on it. But after I finished To Dance Once More, Song of the Meadowlark kept knocking at my mind's door. I originally set it in Wyoming because that's where I thought all cowboy books had to be set. But it didn't flow well because I've never been out west. I changed the setting to South Georgia and the rest is history. I wrote this book with the theme of forgiveness and starting over because those are two topics I know all too well. The story deals with characters who have lost loved ones and who have had to learn to grieve and move on. I've lost both my parents and I suppose the emotions of the characters flowed naturally out of my experiences. Maybe I wrote it as a personal way of dealing with the losses and healing from them.
Why did you choose these characters?
Like I said, I wanted to write about a cowboy. The heroine developed all by herself. ☺
Which came first, the characters or the story?
Definitely the story came first in this book!
Where can readers find your books, Sherri?
My books are available on Amazon, Barnes and Noble, CBD, and OakTara's website. Readers can find the links on my website: www.sherriwilsonjohnson.com
Last question. What was that Christian romance novel you say you burned in the fireplace about?
I never gave the book a title. Isn't that weird? I guess it never came to me. It's probably for the best and is probably what has allowed me to put it to rest and not think about it too often. It was a story of six teenagers—three girls and three boys. Some had vowed to live a life of purity and some had not. I guess that topic has been on my mind for far longer than I realized. ☺
Thanks so much, Sherri, for taking the time to be here. I pray blessing and success on your books.
If you would like to win a copy of Song of the Meadowlark, use my "Contact" page and type "drawing" in the comments box. The deadline to enter is 1/24/13.