AN INTERVIEW WITH ELISA MARIA CRITES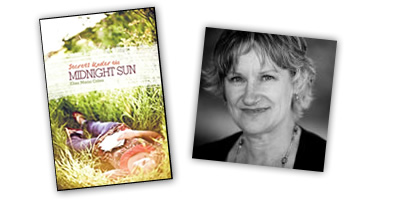 Today I'm chatting with author, Elisa Maria Crites, author of Secrets Under the Midnight Sun. Welcome Elisa, I'm pleased to have you as my featured author.
Thank you for inviting me, Deb. I'm so happy to be with you.
Elisa, your bio says you enjoy traveling. Will you share about some of the places you've been?
I am blessed to have friends in many places around the country and have been able to visit many of them from Florida to other parts of Alaska. A couple of years ago I finally got to explore Vermont and New Hampshire in the fall. As far as international travel, I've gotten to explore England, Wales, Ireland and parts of Scotland. Two years in a row I took a short reprieve from our -40 temperatures to warm up in a lovely fishing village in Mexico. In 2010 my travel has been business related including two trips to San Diego, one to Atlanta, but I try to get the goody out of business trips too. The last San Diego trip, I got away one evening with several other conference attendees to visit the zoo. We let the wrong guy carry the map and we got lost. By the time we found our way back to the gate we were famished. One lady in the group had forgotten what peacocks were called and I was so hungry the only word I could come up with was 'parmesan'. We laughed all the way to an Italian restaurant. In August I attended the Oregon Christian Writer's conference in Oregon and spent a couple of extra days doing research for a future writing project.
You're a contributing author on the Novelteen blog. Please tell us a little about that.
I'm happy to share about Novelteen! Jill Williamson, a Christy award winning author in the YA genre is the owner of the blog. Another YA writer, Heather Burch, shared her belief that the Christian teen market is gearing up to be huge similar to the YA and contemporary Christian music markets, which have both exploded.
Heather came up with an idea for a website featuring authors of clean teen fiction and when Jill learned of her plan, she thought it would be a great marriage to her existing site. They revamped Novelteen and launched in June. Several authors contribute to the blog both in blogging and book reviews. I'm delighted that one of our blogger/writers is a sixteen year old.
The site also offers Team Novel Teen which offers readers the opportunity to be involved with authors and book launchings.
How long have you been writing?
I remember telling stories before I started school and began writing them as soon as I was able to write. For many years my writing was either class related, or something I wrote in with no intentions of sharing. It's interesting that for years folks sent me cards telling me how much they looked forward to my Christmas letter. A few years ago a high school teacher I kept in touch with wrote me a lovely two page letter in which he encouraged me to write a book. He said if that was too daunting, to start writing for magazines. He was my shop teacher.
Do you write full time, or do you have a day job, as many writers do?
I do have a day job. I'm a certified nursing assistant and a licensed massage therapist focusing on pain relief therapies.
What's a day like in the writing life of Elisa Maria Crites?
When a seed is planted in my mind, I process it for a while before sitting down and writing the rough draft. It's during that time the setting solidifies and my characters come to life. Then on Sunday morning when the house is quiet, I sit down and write. I live in a house with eight other people and thirteen various critters making peaceful creative writing time limited.
Elisa, please tell us a little about Secrets Under the Midnight Sun.
Secrets Under the Midnight Sun is a coming of age story set in Alaska in 1967. Fredricka O'Reilly longs for her dad to love her, but he is incapable.
Why did you choose this subject to write about?
I know so many women who were abused as children and a part of them remains a wounded child. With the lack of value that is put on the sanctity of life, child abuse is rampant. Many children have been abused at home and in the church. During the process of getting this book published, an editor made comments on the manuscript asking, "Could this really happen?" That question was yet another confirmation that this story needed to be told. I thanked God that the editor had not experienced abuse, yet I wondered how anyone that listens to the news or reads a newspaper would have to ask if it could really happen. I spoke to some family therapists who counsel children and they told me there was a need for this book.
Your blog bio states the local newspaper published one of your stories when you were in the third grade. Will you share with readers about that experience, and what the story was about?
Okay, but I've read so many times that editors don't want stories about talking animals, so I'm sure it wouldn't be published if I were to write it today because it was an animal story and of course all the animals talked. My teacher loved the story and sent it to the newspaper and it was one they selected to publish. It's funny that while I have doubted myself so many times, there have been people encouraging me to write for as long as I can remember.
Elisa, please tell us where you can be found on the internet.
www.elisamariacrites.com, and of course, www.novelteen.com;
Facebook, goodreads and a few others, but I'm still learning to use these. In fact I'm taking a course next month. I would love to hear from folks though and you can contact me through my author site.
One last question, for fun: I think everyone out there would love to hear about the moose that visit your backyard, and even take naps there. Will you share about that?
I never tire of seeing moose even though I've seen them all my life. It's a thrill and an honor to share this amazing state with God's amazing creatures. A few springs ago a cow moose gave birth to beautiful twin calves in the woods by our garage. They hung around here for a while and we got to watch them in the yard daily. We recognize them as adults now because they have such unique coloring. They enjoy sweet peas, broccoli, and cauliflower, so any garden is subject to random moose munching. They especially enjoy pumpkins which we set out for them in October. We've taken many pictures through the window. I have a great respect for wildlife and avoid habits that would endanger them.

Thanks so much for taking the time to visit, Elisa. It's been fun, and I wish you many blessings in the sale of this and all your books.
Thank you for inviting me, Deb. I've enjoyed my visit.
If you'd like to win an autographed copy of Secrets Under the Midnight Sun, use my Contact page and type "drawing" in the comments box. The deadline to enter is January 24th.