AN INTERVIEW WITH C.J. DARLINGTON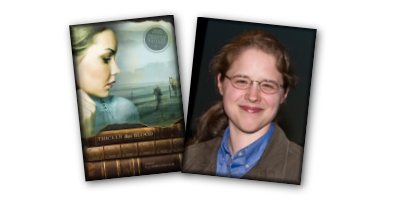 To start the New Year off with a bang, we have award winning author, C.J. Darlington to talk about her book, Thicker than Blood, among other things.
Welcome, C.J., and congratulations on winning the 2008 Christian Writers Guild's Operation First Novel!
Thank you so much, Deb! I'm thrilled to be here.
What was your first reaction when you heard your name announced as the winner?
Shock! It was almost as if it didn't register. Even when I was standing on the stage with Jerry B. Jenkins, the past winners of the contest, and the editors from Tyndale, it hadn't fully hit me. It was later that night in my hotel room that it really sunk in. Oh, my word. My book is going to be published. By Tyndale House!
There's a picture of you posing with Jerry Jenkins on your website. What was it like meeting him?
Jerry is one of the most humble and soft-spoken people you will ever meet. His one-liners can take down the house. I remember sitting at his and Dianna's table for dinner. I was looking over all the fancy place settings and said, "My goal for the night is to keep from spilling something on myself." Jerry leaned over and said, "Good luck."
Please tell us about Thicker than Blood.
Thicker than Blood tells the story of two estranged sisters who meet again after fifteen years. Booklist called it a "modern twist on the prodigal son story," which I think is very interesting as I never set out to write it with that parable in mind. But it's a fitting, and humbling, description. Rare books play an important role in this novel, especially a first edition of Ernest Hemingway's For Whom the Bell Tolls. Ultimately, I hope Thicker than Blood delivers a message of the forgiving and redemptive power of God available to all those hurting and abused among us.
C.J., what inspired you to write about the subject matter covered in your novel?
The germ of an idea came from games my sister and I would play with a friend when we were children. We would role play different imaginary characters, making up stories for them which we acted out as we went along.
I thought it would be neat to write a story featuring two of these characters, sisters May and Christy Williams. And early on I realized I wanted the story to be about redemption. I loved the concept of one sister (May) knowing the Lord and reaching out to her unbelieving sister (Christy).

I've also been fascinated with the West and ranching, so including these aspects in the story gave me the opportunity to learn more about them.
How does your faith affect your writing?
My faith is the reason I write. Several years ago I was questioning the value of writing as a ministry, and the Lord brought to my attention that Scripture in Ephesians which talks about each of us being called to different things. When I got to the part about evangelists, I felt like the Lord was telling me that was my calling. Through my writing I have the chance to share the greatest story every told. Maybe someone who would not receive from a pastor or a preacher would pick up a novel. That's my hope---that people would read my stories and understand how much God loves them.
Just as Christy in the book, you are involved in the antiquarian book trade. How did this come about?
My sister and I started book scouting for local used bookstores when we were teenagers. We've always loved books, and it was a natural fit. It wasn't long before we started selling books online ourselves. Soon our whole family was involved in the business, and we still are to this day.
As you look back upon all those years of your journey to publication, what did you learn that is of the most value to you?
That God's timing is always perfect. If it had been up to me I would've been published after typing "The End". Now I'm so glad I wasn't. I had so much to learn before I was ready, and I'm still learning a ton. All through the waiting and the rejections, I had to remind myself that God had the perfect publisher for me. Let me tell you, it was worth waiting for Tyndale House!
Where can readers find you on the net?

My website, http://www.cjdarlington.com is the best place to catch up with me. I'm also on Twitter and Facebook (the site has links).
What can we expect from you next, C.J.?
I'm really excited about the sequel to Thicker than Blood. My working title for it is Innocent Blood, and some of the major characters in Thicker become minor characters in this one. The main character is a sixteen-year-old girl named Roxi who finds herself in serious trouble. A strong supporting character is Abby Dawson, the older sister of the bookstore manager, Hunter Dawson. Rare books also play a big part in this story, especially a first edition of F. Scott Fitzgerald's The Great Gatsby.
I read on your Web site that you are an identical twin. Is your sister also an author?
Tracy was actually published years before I was! She's a freelance writer and often writes for teen publications like Susie Magazine, YS, and Insight. Her articles used to appear regularly in Brio and Breakaway before they ceased publication.
One more question, C.J. A double whammy. On your Web site, you state that you've never read a Jane Austen novel, or watched any movies based on her books. Is there any special reason for this? And do you feel like you might be missing something?
Ha ha. I'm always amused at the reaction I get when I tell people this. Actually, it was never intentional. I'm sure they're wondering. I just never got around to reading Miss Austen, and the same with her movies. Of course, I have a feeling it won't be long before you Jane Austen fans tie me up and sit me down to watch one! ☺
Well, C.J., thank you so much for stopping by. It's been fun having you!
It's my pleasure, Deb. Thank you for taking the time to ask these great questions!
If you'd like to win an autographed copy of Thicker than Blood, just use the contact page of this site, and type "drawing" in the comments box. The deadline to enter is January 24th.