AN INTERVIEW WITH SHARLENE MACLAREN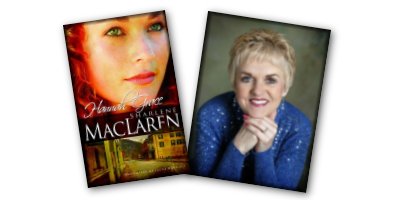 To start the year off with a bang, we have author of Christian fiction, Sharlene MacLaren joining us for a chat.
Welcome, Shar, it's so good to have you visit this month.
Thanks so much for inviting me! It's my pleasure.
Have you ever doubted that writing might not be your calling?
I've always enjoyed writing—but I didn't actually write my first novel until the year 2000. I was a couple of years away from retirement from education and already fretting about what I was going to do with myself. I pled with God to give me a new direction for my life, something that would fulfill me – as my teaching career had done. It started with a dream. I know that sounds "cliché-ish", but it's true. I dreamt I'd written a book. I thought the dream was odd, but after dreaming it three more times, I sat up, took notice, and thought, hmm, is God trying to tell me something? (Slow learner!) So, with much trepidation and an idea for a story floating around in my head, I sat at my computer one fine summer day in the year 2000 and started writing. Now, six pubbed books later, I'm going strong as ever! So, no, since receiving this "call" to write I've not had a moment of doubt. Praise God!
What do you like to do when not writing?
I love spending time with my darling family! I have two married daughters and three wonderful grandchildren, of which the oldest is just two! We have a busy household when everyone comes over, which is most every Sunday for dinner. Of course, I love spending time with Cecil, my sweet hubby of almost 33 years. I enjoy reading, walking with my dog, shopping, traveling, and eating a fine piece of chocolate. (Somehow, I had to get chocolate in there! **grins**)
Who are some of your favorite authors?
Almost too many to count. There are so many wonderful authors out there, particularly in the CBA market, but I think the one who comes to mind first is Francine Rivers. Absolutely adored Redeeming Love. Wonderful read!
Shar, of all your books, do you have a favorite? A special one that's close to your heart?
I always become so entrenched in all my books as I am writing them so it's difficult to say I prefer one over the other. (It's like saying I love this child more than that one. Teehee) If I had to choose, though, I would probably say Long Journey Home. That was the first story God "gave" me after He planted a seed of passion in my heart to write. Immediately after I wrote that manuscript, I jumped headlong into my next one, then my next one, and my next. I was just so overflowing with ideas back then I could barely stop to breathe between books. "Journey" sat on my shelf for eight years before I dusted it off, spiffed it up, and sent it off to my current publisher. It released in October of '08, eight years after I wrote it. It was like sending my "first born" off to college. Ha!
Will you give us a sneak peek into a typical day of Sharlene MacLaren, the author?
Generally, I don't get out of bed till about 9 because I've stayed up so late at my computer the night before. My "quiet time" comes first, conversing with the Lord and reading scripture. I usually work at my computer for a couple of hours in the morning, checking and responding to emails. Then I tend to chores and errands. In the afternoon, I try to write for another hour or so, but it just depends upon my day. So many things pull me in every which direction. Life is very busy at the MacLaren house! Things do slow down, though, toward evening, so believe it or not, most of my writing takes place after 7 p.m. It helps that I am retired and can make my schedule whatever I want it to be. And, believe me, it changes daily.
Please share with us about Hannah Grace?
Here's a blurb about the book: Growing up in the west Michigan resort town of Sandy Shores in the early 1900s, Hannah Grace, the eldest of Jacob Kane's three daughters, is feisty and strong-willed, yet practical. Between working at her father's general store and courting the town's physician, Ralston Van Huff, Hannah has her life planned out in an orderly, meaningful way. Or so she thinks. But…Hannah's world turns upside down when the new sheriff comes to town. Gabriel Devlin is strong, outspoken, and a Christian, to boot, but he's sworn off women, having met ones mostly interested in money and apathetic about God. Determined to ignore the newcomer's handsome looks, Hannah is drawn to him nonetheless by a shy, runaway orphan boy named Jesse. While Hannah works to befriend the shy vagabond, who's living with Gabriel until other arrangements can be made, God works in her heart. What plans does He have in store for this young woman who thought she had it all together?
What inspired this series, the Daughters of Jacob Kane?
I am constantly in prayer, seeking God's guidance and direction when it comes to my story lines, so I must thank Him for planting the idea in my head for this series. I also thank Him for the wild imagination He gave me! Without that, where would I be? Every writer of fiction must have a constant flow of ideas running through his/her head. Praise the Lord I do. My "Daughters" series came about because I loved the idea of writing about one particular family with all its likes and dislikes, similarities and differences. This family has three sisters, all about a year or so apart in age but as different as night is to day in looks and personality. The only trait they share is their feistiness. The setting is West Michigan, my stomping ground, and the period is 1904-1906. The research was especially fun and interesting.
Shar, where can readers find you on the Internet?
My websites and blogs are: http://www.sharlenemaclaren.com and
http://www.sharlenemaclaren.blogspot.com and http://www.shoutlife.com/sharlenemaclaren
or you can find me on Facebook. Now, I ask, who isn't on Facebook? **grins**
One last question: I've read that you married your childhood friend. Did you always know that you would?
I absolutely did NOT see that coming. My darling husband is four years younger than me, so I always treated him sort of like my younger brother because, well, his oldest sister married my oldest brother when I was 13 and he was nine. We grew up as best friends and that was all there was to it. Through the years, I always had boyfriends—he always had girlfriends, and we were very protective of each other, talking often and seeing whom the other was dating. He would constantly say of the guy I was currently with, "He's not good enough for you, Babe." (He always called me Babe.) Well, when I was 27 and he 23, suddenly age mattered little. I didn't have a boyfriend and he had just broken off an engagement. Can you believe it? I picked him up at the airport (just friends, of course!) in September of 1975. He had just received an honorable discharge from the Air Force! LET ME JUST SAY, when he got off that plane I looked at him in a whole new way—as a grown-up M-A-N! He gave me a little peck hello on the lips and I sort of floated to the car with him. He made me wait a whole week before he kissed me again, even though we spent every day together. The next time he kissed me it was to say he loved me and wanted to marry me!!!!!! By then, I had also fallen head-over-heels and we were married three months later. As I said earlier, that was 33 years ago, and we are still ga-ga over each other. (Was that more than you wanted to hear?)
Thank you so much for spending this time with us, Shar, and I wish you a happy and abundantly blessed new year.
Thank you for having me, and I pray a blessing for a wonderful God-filled year for you and everyone else.
To win a copy of Hannah Grace by Sharlene MacLaren, enter the drawing by using the contact page, and type "drawing" in the comments box. The deadline to enter is January 24th.