INTERVIEW WITH MIRALEE FERRELL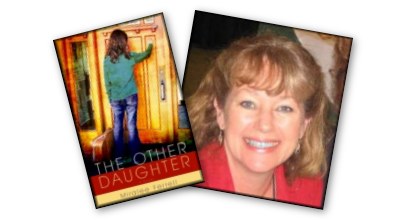 Miralee Ferrell is the author of The Other Daughter, a story of love, forgiveness and redemption. Susanne Carson's well-ordered family life is thrown into devastating chaos when Brianna, a young teen, appears on her doorstep, claiming to be the daughter of Susanne's husband, David. The revelation of David's apparent betrayal adds strain to an already fragile marriage. Will this shocking discovery drive the family apart, or will it draw them closer to God? Guaranteed fiction, Kregel Publications
Welcome, Miralee. Thank you for visiting with us.
As The Other Daughter is your debut novel, how long did it take you to complete it, from idea to final draft?
The initial draft only took 5 weeks. I couldn't stop writing until I'd poured it all into a Word document. But revising, editing, having an editor friend read and comment, then revising another two times, took about six months. After it went to my agent and she began shopping it I decided it needed a new character to add depth to the family, and I added the Native American grandfather. That meant yet another partial rewrite, which took another 3 wks.
Infidelity and illegitimate children are sensitive subjects to write about. Did you encounter any difficulties in the handling of them during the writing process?
I chose to not dwell on the physical incident, but on the emotional fall-out that resulted. And as David and Susanne weren't married when Brianna was conceived, it wasn't infidelity in the truest sense of the word, but rather promiscuity…still not a good thing. I didn't struggle with the subject as I'd personally experienced some of the issues dealt with in the book, and wrote it from that viewpoint. I kept in mind that some people might be able to relate to Susanne and David's struggle, and hoped to minister in some way to the very real issues surrounding blended families and children born out of wedlock.
Your characters are very well drawn, exhibiting realistic emotions, reactions, etc. What kind of research did you have to do in order to "get into their heads"?
None. The emotions were drawn from personal experience, as well as putting myself in the character's place. While we didn't have a 13 yr. old girl appear on our doorstep, we did have an 18 yr. old young lady write my husband a letter claiming to be his daughter. So I went through some of the same feelings of shock and disbelief Susanne experienced. I did not fight against it, however, as I was a committed Christian who cared about the welfare of the girl and the rejection she'd grown up with, being told her dad didn't want her. Susanne's actions in the scene where she struggles with alcohol, and with her feelings of revolt against being under someone else's authority (even God's) were based on feelings and struggles of my husband. The two younger children in the Carson family were drawn from our two children at that age. I think that's one of the reasons why the book was initially written in only 5 wks. The story was very real to me, and the characters were easy to bring to life.
In the story, your main character's daughter rides horses. Did that element come out of experience?
Yes, absolutely. I didn't get to purchase my first horse until one year into our marriage when my sweet husband graciously bought me a yearling colt. We've not been without at least one horse, since. And my grown daughter Marnee is the model that eleven year old Meagan was built around. Marnee has ridden since she was a toddler and is an accomplished horsewoman. We own property that adjoins the home and land where she and her husband live. She and I go trail riding whenever our schedules allow. I'm down to only one Arab mare, but she owns three horses.
Miralee, your bio reveals an interesting tidbit of information: The Other Daughter is being considered for production by two major movie studios. I'm very excited for you and hope it works out. What did you need to do to make that happen?
Again, absolutely nothing, LOL! The Lord dropped that one in my lap with no warning or design on my part. It's kind of funny, because I breezily told my agent when reviewing the contract with Kregel a year ago (when I read the part about movie rights and percentages)… "I don't need to worry about that. It's not like my book will EVER be considered as a movie." Never say never. Both studios discovered the book through an outside source and came to us. They are both reviewing it for POSSIBLE consideration. I'm saying reviewing for possible, because very little is certain with the movie industry. Even if they purchase movie rights, they may sit on it and never actually shoot it. As it's not something I ever expected or worked for, I'm not counting on it and rarely think about it. God brought it into being, and if HE wants a movie, great. If not, it was nice knowing they liked they idea and considered it.
Is there anything else you'd like us to know about The Other Daughter?
I'm so blessed that it's getting excellent reviews since it released in October. Your readers can find the first 5-6 pages on Amazon, by clicking on the picture of the front cover and choosing "excerpt". CBD seems to run out every few days, but Amazon has been on top of ordering and only had a 24 hr period where it's not been readily available and it can still be purchased in time for Christmas. There, LOL! I've done my little sales pitch for the day!
The biggest thing I'd like to say is that I'm praying The Other Daughter touches lives. There are spiritual messages and values woven through-out its pages. You don't have to be part of a blended family or be married to an unbeliever to appreciate or relate to the story. But if you are, I think you'll find hope and inspiration.
Will you give us a sneak peek into your next book, Past Shadows?
Sure. Anyone who finishes reading The Other Daughter will easily figure out that the second book will be centered around Susanne's not so nice friend, Jeena Gregory…the gal who invites Susanne out for an evening of girl talk. Here's a little look into what's in store for Jeena.
Jeena's new job with Browning and Thayer promised big things, and she intended to take full advantage in every way she could. New clothes, new townhouse, new car and new furniture were just the start. Rumors around town cast her new boss in a shady light, but she set aside her uneasy feelings…the money was good and his ethics weren't her concern.
A few weeks later her world began to shake. Her salary wasn't paid on time and things were happening in the office that didn't bode well for her future. Money was disappearing and the investors were making trouble. Her boss disappeared and his partner was left to take the fall, along with anyone else associated with the company.
Jeena's carefully crafted world began to crumble and her struggle with alcohol began to rear its head again. Dragged into court to be interrogated was only the beginning....
Miralee, I've read that you seriously embarked on this writing journey only after a unique nudge from a pastor during a special service. Will you share that story with us?
That was an amazing experience and again, not something I sought. I went forward at the end of an evening church service with a special speaker. He prayed for each person individually and started to pray for me, then stopped and spoke to me instead. He told me the Lord impressed on him that I needed to be writing…he didn't know what type of writing, but felt strongly that the Lord said it needed to be published. That was it. Short and to the point, but it impacted me in a huge way. I spent two weeks praying about it and decided to move out in obedience and begin writing. I'd had no desire before this to write, but believed the Lord was leading me to do so. I spent a few weeks writing a 100,000 word auto-biography covering from the time my husband and I met one another to the present. It wasn't meant for publication, but for family, although I infused a lot of spiritual applications through out and someday might consider revising for possible publication. Afterwards I went on to short stories, then wrote The Other Daughter.
Miralee has graciously agreed to give away an autographed copy of The Other Daughter in a drawing. To sign up, use the form on my "Contact" page, and put the word "drawing" in the comments box. The deadline to enter is January 19th and the winner will be announced on my home page beginning around the 25th.
Thanks so much, Miralee, for chatting with us. I, for one, have truly enjoyed this time with you. I enjoyed reading your book, as well, and look forward to the next one.
If you'd like to learn more about Miralee, her books and other writings, visit her Web site at http://www.miraleeferrell.com.