AN INTERVIEW WITH ANN LEE MILLER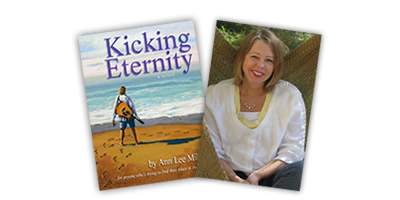 This month, I'm chatting with Ann Lee Miller, author of the Christian romance, Kicking Eternity. Welcome, Ann, I'm pleased to have you featured on my website!
I'm excited to be here. Usually, I visit to win books. This month I get to give them away. =)
The bio on your website tells of you and your family living on a sailboat for a few years when you were a child. Will you share with us what that was like?
My father spent several years building a forty-foot sailboat in our backyard. We launched it in the Miami River and lived aboard at Dinner Key Marina when I was eleven until I turned thirteen. At the time I didn't realize how unusual it was to live on a boat and ride my bicycle down the dock each morning to attend school. All my friends at the marina did the same. After school every day, I tossed my books onto my bunk, shimmied into a swim suit, and jumped overboard.
Sailboats show up in all my books thus far. In addition to Kicking Eternity, The Art of My Life debuts in September, Avra's God in December, and Tattered Innocence next March.
I like the passage on the home page of your site, where you convey a deep, heartfelt message to visitors. What prompted you to be so open about yourself?
Here's what Debbie is talking about: I'm searching for my place in this messy world--craving, saying, and doing things I regret. I fight for relationships, and sometimes I give up too soon. I hold grudges. I harbor issues. And, always, I'm trying to measure up. Do you walk in my world?
I write about the things I'm passionate about, often the places where I've been wounded. My books focus on these topics, though veiled in story. It was a small step to say it more plainly. I know what desperately wanting something from a parent and never having that need met feels like. This kind of wound warps a person and requires God's healing. I grew up Catholic, and as far as I can tell, all the jokes about Catholics having the corner on guilt are true. My regrets cut deeply. My closest bond was with my father, for whom I never measured up. Falling short has chased me all my life.
The other side of the equation is that Jesus plucked me out of that childhood at age 19 and into a loving relationship with Himself. Through my husband and children I've had everything as an adult I lacked as a child. I am well loved, believed in, protected. This is why I write romance.
Ann, please tell us a bit about your novel, KICKING ETERNITY.
Kicking Eternity is all about chasing dreams—our dreams, God's dreams, and the mixed-up tangle of both. Here's a blurb about the book:
Stuck in sleepy New Smyrna Beach one last summer, Raine socks away her camp pay checks, worries about her druggy brother, and ignores trouble: Cal Koomer. She's a plane ticket away from teaching orphans in Africa, and not even Cal's surfer six-pack and the chinks she spies in his rebel armor will derail her.
The artist in Cal begs to paint Raine's ivory skin, high cheek bones, and internal sparklers behind her eyes, but falling for her would caterwaul him into his parents' life. No thanks. The girl was self-righteous waiting to happen. Mom served sanctimony like vegetables, three servings a day, and he had a gut full.
Rec Director Drew taunts her with "Rainey" and calls her an enabler. He is so infernally there like a horsefly—till he buzzes back to his ex.
Raine's brother tweaks. Her dream of Africa dies small deaths. Will she figure out what to fight for and what to free before it's too late?
What prompted you to write this story about wrestling with one's dreams?
So many people wrestle with their dreams and God's dreams for their lives. I wanted to give them hope, the courage to trust God with their future.
Ann, please tell us where you and your books can be found on the internet.
AnnLeeMiller.com
Twitter: @AnnLeeMiller
Facebook Author Page: http://www.facebook.com/pages/Ann-Lee-Miller/356653761022022
http://www.amazon.com/Kicking-Eternity-ebook/dp/B0082GF8CE/ref=sr_1_1?ie=UTF8&qid=1337208792&sr=8-1
One more question, Ann, for fun: The first line of the bio on your website states you became a writer the year you discovered Sister Sheila had hair. Can you expound on that for us? Exactly how did the fact she had hair compel you to write?
Discovering that Sister Sheila had hair the year she taught me fifth grade English somehow gelled in my mind with all her positive comments on my papers. My parents marriage was in meltdown, and encouragement was a rare thing at home. Sister Sheila made me believe I could write. A dream was born.
That's all for now. Ann is offering a free e-copy of KICKING ETERNITY to everyone who requests a copy on the contact form at AnnLeeMiller.com. The deadline is June 24th.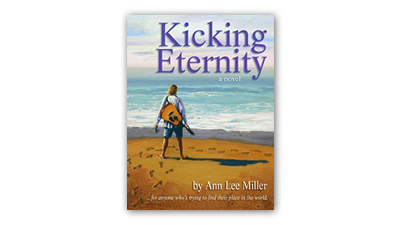 Book Blurb:
Fresh from college, Raine scores a teaching job at New Smyrna Beach Surf and Sailing Camp. A crush on the camp rebel/art teacher threatens to derail her plans to teach orphans in Africa. The broody recreation director spots her brothers meth addiction and Raine's enabling. Raine believes she is helping her brother--until lives are threatened.
Endorsements for Kicking Eternity:
Kicking Eternity won First Place Long Contemporary in the 2009 Romance Writers of America Faith, Hope, and Love Contest.
"In Kicking Eternity, Ann Lee Miller masterfully weaves the delicate web of emotions experienced in that turbulent 'twenty-something' stage of life. Powerful family dynamics, intense loyalty challenges, and tender new loves find their niche in your heart as this story unfolds layer by lovely layer."
Mesu Andrews, Author of Revell titles Love's Sacred Song, and Love Amid the Ashes, which won the 2012 CBA Book of the Year, New Author Category
"Ann Lee Miller writes stories straight from the heart with characters who'll become friends, remaining with you long after you turn that final page. You won't want to miss Kicking Eternity!"
Jenny B. Jones, Author of the Katie Parker Production Series from Think and The Charmed Life Series, and other single titles from Thomas Nelson
"I've lost hours of sleep reading Ann Lee Miller's work due to her uncanny ability to yank me into a story with authentic, lovable, yet challenging characters."
Lynn Rush, author of Wasteland, Awaited, and Prelude to Darkness from Crescent Moon Press

Bio:
Ann Lee Miller earned a BA in creative writing from Ashland (OH) University and writes full-time in Phoenix, but left her heart in New Smyrna Beach, Florida, where she grew up. She loves speaking to young adults and guest lectures on writing at several Arizona colleges. When she isn't writing or muddling through some crisis—real or imagined—you'll find her hiking in the Superstition Mountains with her husband or meddling in her kids' lives.