This month, Danele Rotharmel returns with her third installment of The Time Counselor Chronicles, Time Search. I'm so excited to have you back, Danele! Welcome!
Thank you, Deborah! Being featured on your website is such an honor! Thanks for having me!
To start right off, tell us a little about this new book, and please mention the genre for those who are not familiar with your work.
I love so many things about Time Search. It was such a fun book to write! My books are Christian romantic suspense with time-travel twists. Time Search is the third book in The Time Counselor Chronicles, and in it, I explore different aspects of my characters' personalities. For example, in this book, my readers learn more about Zeke's troubled past. Also, Marc and Crystal's relationship continues to evolve as they begin understanding each other on a deeper level. Something that made an impression on me while I was writing Time Search was the importance of emotional honesty. In Time Search, several of my characters experience an emotional crisis. In life, and while writing, it's tempting to avoid strong emotions—to gloss over them. But I believe that freedom can only be gained when painful truths are confronted. Life isn't easy, and life for my characters isn't always easy either. Some of them handle their painful situations gracefully—others don't. As an author, I want my characters to grow and evolve, and the only way that growth happens is when pain is overcome. Another thing that I love about Time Search is the action! I created a game of cat-and-mouse between Agent Ruthford and Drake that had even me guessing! I tried hard to write a story that would keep my readers on the edge of their seats, and I'm very happy with the result.
I don't believe I've asked you before, but why did you choose to write in this particular genre?
I've always had a HUGE imagination, and the concept of time travel simply fascinates me. Writing books in which time travel is a normal part of life is a BLAST! Time travel allows me to include all kinds of plot twists into my books. It lets my imagination soar to new heights. I wrote my books as a way of entertaining myself, and nothing is quite as entertaining as speculating about time travel!
Are there vocabulary words or concepts in your book that may be new to readers? Define some of those.
I'm always coming up with new terms, which is why I've included several glossaries in the back of my books. By thumbing to the back, my readers can find alphabetical lists of characters, a glossary of relationships, a glossary of TEMCO employees, a glossary of locations, and a glossary of terms. Creating my own specialized lingo for The Time Counselor Chronicles has been so much fun! Wave Trappers, Scan Emitters, Time Tsunamis, Tipping Points, GAP Searches—you name it, and I have it! For instance, temporal black holes are a mysterious phenomenon that are mentioned in all of my books, but in my seventh book, Time Flashback, the TEMCO staff finally learns what causes them. I can remember reading Tolkien, and being in awe of his glossaries—he even created several languages for his characters. I haven't created languages, but I have tried my hand at creating some new vocabulary. I think it gives my story added depth. Making the TEMCO program seem real has been very enjoyable.
This, and the others in this series, are very detailed in time travel, in my opinion. Did you do any kind of research on that subject, or did you produce all of that superb info out of your imagination?
The time travel information contained in my books is a combination of fact and imagination. I've researched the subject, but lots of the math sails right over my head. Basically, when Crystal or one of my other characters says something technical, I do enough research to make their statements seem plausible and then I add imaginary details to fit the scientific data into my story. I suppose you could say that I "fudge it with flair"—at least, that's my goal.
Danele, please give us an interesting fun fact or few about your book or series.
It would be my pleasure, Deborah! Here are some fun facts:
1. The scene in which Crystal falls and gets her hair stuck beneath a closing door is based on fact. It actually happened to me. I'm a horrible klutz, and I'm always getting myself into silly situations.
2. Crystal's exploding purse is based on real life, too. When I was student teaching, I had a huge purse that my pupils called my "magic bag." They were in awe of what it held. I was known to haul around a curling iron, board games, a first aid kit, decks of cards, several books, an umbrella—and in one memorable instance—potatoes. They never knew what would come out of my purse.
3. I wrote Time Search while I was ill and enduring a seven-year stretch of quarantine. During that time, I came down with a horrible case of cabin fever which is why I created Angelina's European tour. Writing Angelina's scenes was my way of traveling without leaving my house.
4. One of the things I love about Time Search is how it demonstrates the importance of listening to the Lord. There have been several times in my life when God has told me to do something—or to avoid doing something—and I haven't understood why. Whenever I've disobeyed God's commands, it always leads to trouble. In Time Search, I try to show the consequences of refusing to listen to God.
5. I love the Cinderella aspect of Time Search. Having Crystal and Nicole work together to make Marc eat his words was so much fun. Whenever I read those passages, I always laugh! And when I was writing them, I was giggling so hard that at one point I couldn't breathe.
6. I had to do some of Time Search's initial editing by lantern light. When I was preparing to submit my manuscript to Prism Book Group, a snowstorm hit Colorado and took out my power for a week. Thankfully, I had a printed manuscript, so my initial edits were made with red pens and yellow highlighters. When the sun went down, I worked by lantern light.
Will there be any more books in this series? If so, how many?
When completed, The Time Counselor Chronicles will consist of eight novels: Time Tsunami, Time Trap, Time Search, Time Awakening, Time Inferno, Time Nightmare, Time Flashback, and Time Resolution. The first six books in the series are already written, and the first three have been published by Prism Book Group. Writing my books was my way of dealing with illness, quarantine, and pain. My books gave me joy during a difficult time in my life. I hope that they give my readers joy as well!
Please supply our visitors with any and all information you wish where they can find out more about your books.
Thank you, Deborah! It would be my pleasure! Here's some information for our readers:
Time Search's Amazon Link:
https://www.amazon.com/dp/B01MY7RGFJ/ref=sr_1_1?ie=UTF8&qid=1484259046&sr=8-1&keywords=danele+rotharmel+time+search
Time Search's Blog Tour:
https://dragonflydanele.wordpress.com/2017/01/12/time-search-book-launch-20-stop-blog-tour/
My Books: https://dragonflydanele.wordpress.com/my-books/
Goodreads: https://www.goodreads.com/author/show/14782632.Danele_J_Rotharmel
ACFW Fiction Finder: http://www.fictionfinder.com/author/detail/1331
My Blog: https://dragonflydanele.wordpress.com/
My Testimony: https://dragonflydanele.wordpress.com/welcome/
Facebook: https://www.facebook.com/danele.rotharmel
One last question, Danele. Do you have any unique talents or hobbies, whether related or unrelated to your writing?
I spend quite a bit of time memorizing Scripture, and I have committed entire books of the Bible to memory. I started memorizing the Bible when I was in middle school. I was involved in the Bible Quiz program through my church, and I loved studying the Word. My favorite time to study Scripture was on the bus ride home. I would memorize verses and then my friends would listen to me quote them. In Bible Quiz, in order for a verse to be considered "memorized" it must be quoted word-for-word. At one point, I was the top Bible quizzer in the state of Colorado, and I received several scholarships based on my Bible Quiz performance.
After I graduated high school, I became a Bible Quiz coach and traveled around the nation with my church's team. I really loved coaching, but I had to give it up when I became ill. As you know, a faulty furnace in my home had a carbon monoxide leak, and the poisoning almost killed me. The carbon monoxide triggered Multiple Chemical Sensitivity, meaning I would become very ill when exposed to perfumes and other chemicals. My condition worsened until I was quarantined in my home—this quarantine lasted for seven years.
One of the side effects of my condition was partial amnesia and problems with my short-term memory. During quarantine, I fought against my memory problems by turning to Scripture memorization. At first, it was a tremendous battle. It seemed that everything I had learned had been wiped clean, and it was incredibly hard to learn new material. For one entire summer, I struggled to learn three tiny verses. As my quarantine continued, I began to recover and my memory problems cleared. Memorizing Scripture became a joy—especially since I hadn't been able to do it for so long. I devoured the Bible and continued memorizing Scripture, and eventually, I had the entire New Testament memorized. (That being said, I can't say that I still have all of the books memorized now—as you know, that's quite a bit of material that needs constant requoting. But I still have a fair chunk of the New Testament committed to memory.) Focusing on God's Word helped me get through quarantine. I think that Scripture memorization is very important. Life can throw some pretty hard curveballs. It's nice to have Scriptures to fall back on during times of trial.
Thank you so much for taking the time to chat with our visitors, Danele. Our best wishes to you with this book, and all future works.
Thank you, Deborah! And thank you for allowing me to talk about Time Search! I hope you have a lovely day!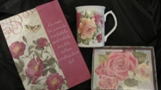 A lovely prize package is being offered in connection with this article. If you would like to win a coffee cup, a set of notecards and envelopes, and a journal, please use the Contact page and type "drawing" in the comments box. The deadline to enter is February 24th.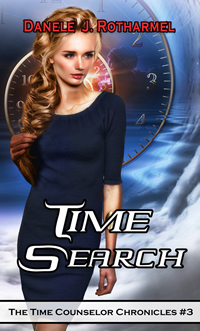 Time Search—The Time Counselor Chronicles #3
A nameless evil lurks in the shadows…
In the wake of a recent wave of violence, TEMCO employees are left reeling. While some of the staff are put into hiding, others are left behind to discover the true identity of the mysterious nemesis who is determined to destroy them all. While Crystal, Marc, and Zeke search for clues to unravel the mystery of his real name, their enemy is lurking in the shadows searching for TEMCO's missing leaders. It's a race against the clock! And as the hours and seconds tick away, it's anyone's guess whose search will be completed first. It's a classic battle of good versus evil, and the stakes couldn't be higher!
About Danele Rotharmel
Danele Rotharmel's life took an unexpected turn when a mysterious illness brought her close to death. Eventually, she learned that a carbon monoxide leak from a faulty furnace was poisoning her. This poisoning triggered Multiple Chemical Sensitivity, causing her to be put in quarantine. For seven years, she could only talk to friends and extended family through a windowpane. During this time, she wrote the first six books in The Time Counselor Chronicles. Although her journey back to health was difficult, it provided her the opportunity to grow closer to God and write her books. For that, she's forever thankful. To learn more about Danele, visit her blog: https://dragonflydanele.wordpress.com/